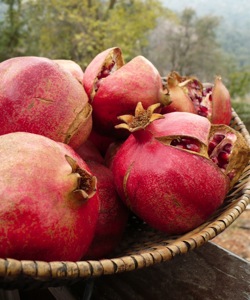 The pomegranate industry had all but died in the late 19th century when researchers came to discover that this strange-looking but bright-tasting fruit might have powerful health benefits. Pomegranates may fight cancer with their antioxidant properties. They may aid heart disease and depression with their anti-inflammatory properties. The market for pomegranate juice and extracts has been exploding with this new evidence. Pomegranate groves now replace almonds and oranges in central California's rich agricultural valley.
Originating in the region from Iran to the Himalayas of India, the pomegranate spread through the Mediterranean and down into Africa. Its adaptation to soils and drought tolerance made it an easy plant to keep. Pomegranate references are found in the literature of every major religion. It became a symbol for rebirth causing at least one Pharaoh and a number of Egyptian elite to be buried with pomegranates in hopes of obtaining a return ticket.
Pomegranates were introduced into the United States by Spanish settlers in 1769. The warm arid climates found in central and southern California and Arizona are ideal for the cultivation and harvest of these fruits of antiquity.
A number of pomegranate varieties have been developed in the last fifty years in response to the growing interest in this fruit. Until recent years the prime interest was in the pomegranate juice which is used to color many of our across the counter liquid medicines. Most whole pomegranates were used to decorate fruit arrangements around the holidays. The effort required to extract the pomegranate seeds from the shell made most folks pass them by. However, increasingly Americans are looking for more ways to incorporate this healthy fruit into their diets and as a tool to halt the aging of their skin.
Antioxidants in Pomegranates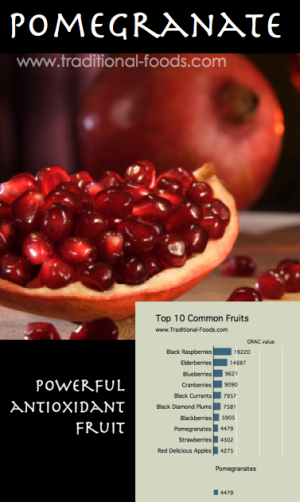 Pomegranates are rising in popularity in part due to their antioxidant properties. Antioxidant foods are cancer-fighting foods, stopping free radical cells from forming cancerous tumors before they start. The idea that we can prevent cancer and enjoy a pomegranate drink or food at the same time is appealing indeed.
The USDA has compiled a database of the antioxidant levels in foods, measured by their Oxygen Radical Absorbance Capacity (ORAC). It provides ORAC values for several hundred foods, per 100 grams of each food. Grams is a measure of weight. We discuss pomegranate juice here because that is how most consumers are enjoying this fruit. To put 100 grams of pomegranate juice in perspective, consider that 1 cup equals 249 grams.
Pomegranate juice has an ORAC value of 2681. Compared to other fruit juices, pomegranate juice fairs well: Concord grape juice has an ORAC value of 2389, black cherry 2370, blueberry juice 2359, prune juice 2036, cranberry juice 1452, lemon juice 1225, orange juice 726. Another juice standout is black raspberry with an ORAC value of 10,460, if you can find it in the marketplace.
Read more on nutrients in pomegranates below.
Using Pomegranates in Your Cooking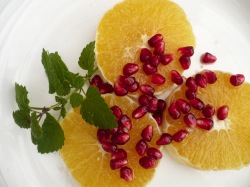 With the growing interest in pomegranate as a health food, pomegranate juice has become much more available. Living in the heart of pomegranate country, we pick up a gallon at a time at the local fruit stand. It is available fresh in the fall and available frozen the rest of the year.
Both the color and flavor are intense which suggests watering it down or adding the pomegranate juice to another drink such as lemonade, orange juice or apple juice. For those who enjoy a martini, pomegranate has had a place in that scene. Grenadine is actually made of pomegranate juice.
If you can get fresh juice, consider freezing the pomegranate juice in ice cube trays and saving the cubes in a freezer bag to use throughout the year.
Pomegranate molasses can be found on shelves in ethnic groceries. It is used in Middle Eastern and Mediterranean cooking. Pomegranate molasses stars in barbeque sauces, marinades, rubs and salad dressings. Add it to cake batter for its color and flavor. If this pomegranate product in not available in your community, make your own. Pomegranate molasses is simple to produce. Here is a simple recipe at Simply Recipes.
Pomegranate Recipe Ideas
Lots of creative cooks are developing innovative ways to use fresh pomegranate. Check out some of these ideas:
A bulgur salad reminiscent of tabouli with walnuts, celery and pomegranate seeds.
A pomegranate salsa, brilliant and full of flavor
A salad of roasted golden beet and pomegranate seeds.
Buying Fresh Pomegranates
Pomegranate harvest usually begins in early October. Do not expect to obtain a really good fruit before then. The pomegranates may look beautiful, but the sugar is not fully developed. When the crop is available, choose pomegranates that feel heavy for their size and have no cracks in the skin. These will keep for several months if stored just above 32 degrees. Pomegranates will keep at refrigerator temperatures for at least a month provided the skin has not been damaged.
Seeding a Pomegranate
Pomegranate seeds will splatter, staining all they come in contact with. Use this method to get the seeds out of the pomegranate for your salad or a snack. Watch the video at right for a demonstration.
Using a small sharp knife score the skin in four places so as to break the pomegranate into quarters.
Completely immerse the scored pomegranate in a large bowl of water that is sitting in the sink. Pull the quarters apart.
Still working underwater, separate the seeds from the white membrane. The seeds will sink to the bottom of the bowl as the membrane floats to the top.
Scoop the pomegranate membrane from the water. Off to the compost bin!
Pour the seeds through a strainer and enjoy.
Buying Pomegranate Extract
Pomegranate is great and we should all add more to our diets. However, if you are serious about a pomegranate regimen, you might also consider a pomegranate extract which essentially distills the goodness of the whole pomegranate into tiny drops or small capsules and are taken as nutritional supplements. Pomegranate extract has great potential because it may incorporate the peel and the yellowish membrane of the fruit, parts that are typically composted when we eat raw pomegranate at home. These inedible portions have powerful health benefits as well. Pomegranate extracts may allow you to benefit from all parts of the pomegranates, all year long and when consuming it regularly is otherwise difficult.
Increasingly, you can buy pomegranate extract in larger health food stores in bigger cities. To buy pomegranate extract online, you will find it offered by a number of reputable vendors, including this liquid extract and an extract in capsule form.
Buying Pomegranate Seed Oils for Skin Care
While most of us know the pomegranate for its juice, pomegranates contain a great deal of seed as you know well if you have eaten a pomegranate raw. The seed is a powerful source of antioxidant, a point that is being leveraged by skin care companies and producers of anti-oxidant skin oils.
One of the most simple ways to put to work the benefits of pomegranate for your skin is to use pomegranate seed oil as part of your daily moisturizing regimen. After cleaning your skin, put a drop or two (or three) of pomegranate seed oil on your palm and add a bit of water. Splash the mixture over your face, attempting to distribute it fairly evenly. A simple pomegranate seed oil is rich in antioxidants that will help your skin slow the hands of time.
You can buy pomegranate seed oil on Amazon — we like this product. You can find a cheaper price per ounce at one of our favorite specialty websites (here), but you will pay more for shipping. We love this vendor but tend to buy multiple things while we are there to save on shipping.
Grow Your Own Pomegranates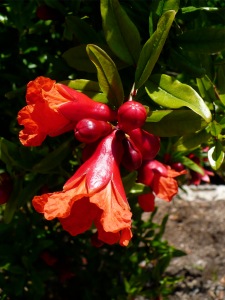 If you love pomegranates and have room for a large shrub, consider growing your own pomegranate crop. It has a few requirements:
The summers must be hot and the winters quite chilly, but not dropping below 13 degrees.
The relative humidity must be low.
The drainage must be good.
Irrigation is needed every two weeks in the first year of growth.
Pomegranate is drought tolerant, but adequate irrigation is needed thereafter to produce good fruit.
The pomegranate shrub is long-lived, growing for as long as 200 years. However, it begins to lose vigor after 15 years. At this point the pomegranate shrub has maxed out on size and on the amount of fruit it will bear. You will still get a crop, but the crop will not increase in size with each passing year from the 15-year point.
If you are seriously considering planting a pomegranate, do some research. There are cultivars developed for different locations and purposes. Find a pomegranate that fits your specs.
Nutrients in Pomegranates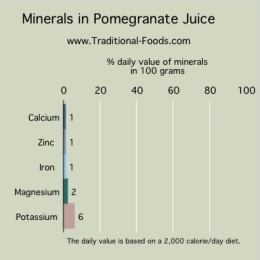 Pomegranates are not only a good source of antioxidants, they supply a nice array of vitamins and minerals as well. The nutrient content expressed here in these graphs and the tables below are for 100 grams of pomegranate juice as described in the USDA nutrient database, just under one-half cup of pomegranate juice.
Pomegranate juice can contribute to your daily intake for potassium and magnesium. It is also a good source of vitamin K and folic acid.
Macronutrients In Pomegranates
Component

Amount

% Daily Value*

Calories

54

Protein

.15 g

0%

Fat

.29 g

0%

Carbohydrate

13.13 g

4%

Fiber

.1 g

0%

Potassium

214 mg

6%

Sodium

9 mg

0%

Sugar

12.65 g

Water

85.95 g

Ash

.49
*The daily value is based on a 2,000 calorie per day diet.
Vitamins In Pomegranates
| | | |
| --- | --- | --- |
| Vitamin | Amount | % Daily Value* |
| Vitamin C | .1 mg | 0% |
| Thiamin – B1 | .01 mg | 1% |
| Riboflavin – B2 | .01 mg | 1% |
| Niacin – B3 | .23 mg | 1% |
| Pantothenic Acid – B5 | .28 mg | 3% |
| Vitamin B6 | .04 mg | 2% |
| Folic Acid | 0 mcg | |
| Food Folate | 24 mcg | |
| Choline | 4.8 mg | |
| Vitamin B12 | 0 mcg | 0% |
| Vitamin A – IU | 0 IU | 0% |
| Vitamin A – RAE | 0 RAE | |
| Retinol | 0 RE | |
| Alpha Carotene | 0 RE | |
| Beta Carotene | 0 mcg | |
| Beta Cryptoxanthin | 0 mg | |
| Vitamin E | .38 mg | 1% |
| Vitamin D – IU | 0 IU | 0% |
| Vitamin D – mcg | 0 mg | |
| Vitamin K | 10.4 mcg | 13% |
| Lycopene | 0 mcg | |
| Lutein and Zeaxanthin | 0 mcg | |
*The daily value is based on a 2,000 calorie per day diet.
Minerals In Pomegranates
| | | |
| --- | --- | --- |
| Mineral | Amount | % Daily Value* |
| Calcium | 11 mg | 1% |
| Iron | .1 mg | 1% |
| Magnesium | 7 mg | 2% |
| Phosphorus | 11 mg | 1% |
| Zinc | .09 mg | 1% |
| Copper | .02 mg | 1% |
| Manganese | .09 mg | 5% |
| Selenium | .3 mg | 0% |
*The daily value is based on a 2,000 calorie per day diet.
Further Reading on Pomegranate Health Benefits
Basu, Arpita and Penugonda, Kavitha, "Pomegranate juice: a heart-healthy fruit juice." Nutrition Reviews 67(1): 49-56. See abstract
Kotamballi N. Chidambara Murthy, Guddadarangavvahally K. Jayaprakasha, and Ravendra P. Singh, "Studies on Antioxidant Activity of Pomegranate (Punica granatum) Peel Extract Using in Vivo Models." Journal of Agricultural and Food Chemistry 2002 50 (17), 4791-4795. See abstract.
Shay Yehoshua Schubert, Ephraim Philip Lansky, Ishak Neeman, "Antioxidant and eicosanoid enzyme inhibition properties of pomegranate seed oil and fermented juice flavonoids." Journal of Ethnopharmacology, Volume 66, Issue 1, July 1999, Pages 11-17, ISSN 0378-8741, 10.1016/S0378-8741(98)00222-0. See abstract.
R. P. Singh, K. N. Chidambara Murthy,and G. K. Jayaprakasha, "Studies on the Antioxidant Activity of Pomegranate (Punica granatum) Peel and Seed Extracts Using in Vitro Models." Journal of Agricultural and Food Chemistry 2002 50 (1), 81-86. See abstract.
Related posts:
No related posts.