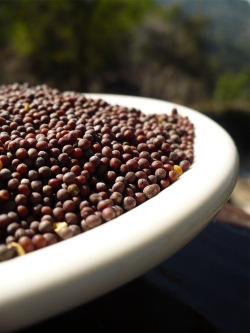 Poppies have captivated people since the beginning of recorded time. The poppy is one of the earliest flowers to be cultivated. There are the red poppies of Flanders and the golden poppies of California, but this article is about the Papaver orientale, the one from which our culinary poppy seeds come.
Admire the stunning red oriental poppy, long-stemmed and graphically exquisite. It's hard to believe that few people are interested in the flowers. Most are waiting for the seeds to grow and mature in the poppy pod. Harvest the pods in the green, still immature stage, and you have opium. Yes, opium is produced from a substance in the green poppy pod that is not there when the pod matures. Needless to say, if you want poppy seeds for your culinary needs, you must forgo the opium harvest to get there.
These poppies are believed to originate in Eastern Asia or the Western Mediterranean. At any rate, in the last couple of centuries, poppies have managed to migrate to most of the globe where the poppy seeds have been used for oil, for cooking, and as a sedative.
Poppy seeds are still much in demand for cooking but the oil is rarely ever found in food preparation. An online search turns up recipe sites and forums dealing with ethnic foods where one can learn much about the use of these seeds in baking. Some interest in the sedative qualities in poppy seed tea has stirred in recent years. At least one death has been associated with the use of poppy seed tea, slowing down the growing interest.
Poppy Seeds as Medicine
Cultivation of poppy seeds to be used as a sedative began over 3000 years ago. Hyppocrates introduced poppy seeds into the study and practice of medicine. The poppy plant has been associated with sleep and sleep problems, used to treat insomnia. The poppy was considered sacred to the Greek god of sleep, Hypnos.
The pod of the poppy produces what we know as opium, but even the plant itself produces morphine and codeine. The seed itself may be an effective antidote to anxiety and sleep problems, but has been associated with at least one death. Self-prescriptions may be a bad idea.
Cooking with Poppy Seed
Poppy seed has been a staple in a number of European-based baked goods, both as a topping and as a filling. In Indian cooking you will find it as a thickening agent in curries. In the Middle East you can find a poppy seed candy similar to sesame seed candy, made with honey and nuts.
Those cooks who most use poppy seed, and whose ancestors used it, insist that the poppy seeds be ground to release the best flavor. It is also essential that they be ground to use them as a thickening agent.
If you wish to use ground poppy seed and if you are going to be using a lot of it in your cooking, it makes sense to buy a poppy seed grinder such as this grinder made for poppy seeds. For most home cooks, it will be unreasonable to buy a grinder just for poppy seeds. An alternative to bring out the flavor without an appliance is to grind the seeds in a home coffee mill, soak them in warm water for three hours or as long as overnight and then drain. The food processor and the blender will not do as effective a job as the coffee grinder and therefore do not produce as much flavor from the poppy seeds. The hard-liners would still say, "Go with the poppy seed grinder!"
Buying Poppy Seed, Including Buying in Bulk
Typically, the worst place to buy poppy seed is from the supermarket shelf. There is no telling how long ago that seed was harvested or how well it has been stored. To boot, it is prohibitively expensive. Instead, shop at a health-food type store where it is available in bulk. You should be able to smell the freshness. As you continue to cook with poppy seed, you will recognize freshness with your nose.
A good alternative for buying is to find a reputable Internet distributor of bulk herbs and seasonings and purchase what you estimate you will need for a year. We recommend this vendor for buying poppy seeds in bulk. This vendor is exceptional for those buying bulk poppy seed.
Storing Poppy Seed
Whether you grow your own poppy seed or purchase it from a bulk supplier, you need to keep it in a cool place. Poppy seed has a high oil content and that oil can quickly go rancid if over-heated. Poppy seed is best kept in the refrigerator in a container with a tight-fitting lid – tight-fighting to keep the moisture out. Moisture could also prompt some spoiling of the poppy seed.
If you have more than you will use in two months' time, store the excess in the freezer, again in a container with a tight-fitting lid. As your refrigerator supply runs out, refresh with the freezer supply. This is the best way to ensure fresh poppy seed for your cooking.
Growing and Harvesting Your Own
The finest poppy seeds are considered to come from Holland with its cool, damp climate. You will need a cool and damp environment if you intend to grow your own. Before you make big plans, check to make certain it is not illegal in your state to grow Papaver orientale. If such an addition to your garden is illegal, the authorities will not care whether you were just growing it for poppy seed muffins.
Assuming there are no legal glitches, prepare your soil for an early spring planting. A cool and damp environment will get you the best germination from your poppy seeds. Choose a spot with good drainage and full sun. Work in plenty of compost or aged manure. Your poppy seed plants will love you for it. About six weeks into the growing season add a good fish emulsion, following the product instructions.
Enjoy your poppies when they bloom. But remember, the more poppies you pick, the more seed you sacrifice in the final harvest. The blossoms will last 3-5 days and then drop their petals. Now a large, roundish pod develops, about the size of a quarter. Your poppy seeds are developing inside. The seeds are mature when you can hear them rattling inside the pod. The pod and the stalk will probably be dry and brown.
Shake each seed head into a plastic bag or a container. The poppy seeds should release readily. Save seed separately from the largest seed head. Use this poppy seed for next season's crop. As you save the seed from year to year the poppy seed will adapt uniquely to your soil and atmospheric conditions.
Nutrients in Poppy Seed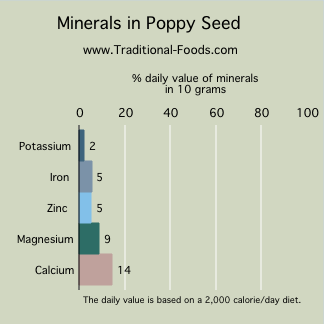 Poppy seeds are actually packed with minerals and though we do not tend to use many seeds in most of our baking, they can add a bit of mineral content to your diet. This nutrient profile comes from the USDA nutrient database and is based on 10 grams of poppyseed — about 2/3 of a tablespoon.
You can imagine that if you were consuming a bread or pastry packed with these seeds, as a few recipes call for, you could get quite a bit of nutrition from the seeds alone. Poppy seed is a good source of manganese, calcium, magnesium, phosphorous, copper, zinc, and iron.
Macronutrients
Component

Amount

% Daily Value*

Calories

52.5

Protein

1.799 g

3.6%

Fat

4.16 g

6.4%

Carbohydrate

2.813 g

.9%

Fiber

1.95 g

7.8%

Potassium

71.9 mg

2.1%

Sodium

2.6 mg

.1%

Sugar

.299 g

Water

.595 g

Ash

.637
*The daily value is based on a 2,000 calorie per day diet.
Vitamins
| | | |
| --- | --- | --- |
| Vitamin | Amount | % Daily Value* |
| Vitamin C | .1 mg | .2% |
| Thiamin – B1 | .085 mg | 5.7% |
| Riboflavin – B2 | .01 mg | .6% |
| Niacin – B3 | .09 mg | .4% |
| Pantothenic Acid – B5 | .032 mg | .3% |
| Vitamin B6 | .025 mg | 1.2% |
| Folic Acid | 0 mcg | |
| Food Folate | 8.2 mcg | |
| Choline | .88 mg | |
| Vitamin B12 | 0 mcg | 0% |
| Vitamin A – IU | 0 IU | 0% |
| Vitamin A – RAE | 0 RAE | |
| Retinol | 0 RE | |
| Alpha Carotene | 0 RE | |
| Beta Carotene | 0 mcg | |
| Beta Cryptoxanthin | 0 mg | |
| Vitamin E | .177 mg | .6% |
| Vitamin D – IU | 0 IU | 0% |
| Vitamin D – mcg | 0 mg | |
| Vitamin K | 0 mcg | 0% |
| Lycopene | 0 mcg | |
| Lutein and Zeaxanthin | 0 mcg | |
*The daily value is based on a 2,000 calorie per day diet.
Minerals
| | | |
| --- | --- | --- |
| Mineral | Amount | % Daily Value* |
| Calcium | 143.8 mg | 14.4% |
| Iron | .976 mg | 5.4% |
| Magnesium | 34.7 mg | 8.7% |
| Phosphorus | 87 mg | 8.7% |
| Zinc | .79 mg | 5.3% |
| Copper | .163 mg | 8.1% |
| Manganese | .671 mg | 33.5% |
| Selenium | 1.35 mg | 1.9% |
*The daily value is based on a 2,000 calorie per day diet.
Enjoy your poppy seeds!
Related posts:
You might also enjoy: