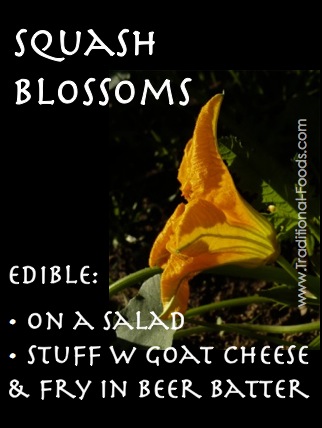 Pumpkin flowers are a culinary treat found occasionally mixed in salads, soups, sautes, or cheese-stuffed and batter-fried. You may have the opportunity to buy a small bundle at a farmer's market. If you do, enjoy the opportunity but plan to cook your pumpkin flower that day. They do not last long in your refrigerator. If you are lucky enough to have pumpkin or squash in your garden, harvest your blossoms as you are ready to prepare your meal.
Stuffed and Fried Pumpkin Flowers
Pumpkin flowers are a great delicacy and are typically served stuffed and batter fried. Your favorite cheese is a great place to start for the stuffing, as is a combination of cheese and shrimp. A tempura is great for the batter. Bonnie Azab Powell at Grist offers squash blossoms stuffed with goat cheese, wrapped in beer batter, and fried in canola oil. Chelsea at The Eat Well Guide stuffs her squash blossoms with ricotta and herbs and fries them in a beer batter.
To prepare your flowers for stuffing, soak them in water to remove bits of soil, bugs, and pollen. Remove the collar of the flower and the stamen.
Male Versus Female Flowers
You will typically find male pumpkin flowers for sale in the market, looking almost like a bouquet of flowers. In a garden context, a male pumpkin flower is fairly easy to distinguish from its female mate: The female pumpkin flower is sitting at the end of a pumpkin. Even when the pumpkin itself is immature, you can typically see it forming just behind the petals of the pumpkin flower. A male pumpkin flower, on the other hand, working hard as a pollinator flower, has a long stem and no it growing on or within the stem. If you are harvesting male pumpkin flowers from your garden, do be sure to leave some on your plants so that they can do their jobs as pollinators.
Nutrients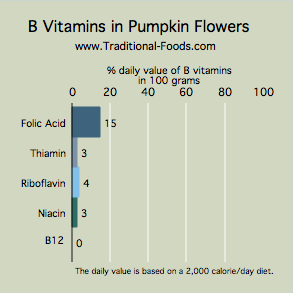 Pumpkin flowers do have important vitamins and minerals, but they are about ninety percent water, requiring that you eat quite a few of them to make a dent in your nutrition.
On this website, we examine most of our foods in 100 gram portions. One hundred grams of pumpkin flower is about three cups — quite a few pumpkin flowers. In those three cups, you will get nearly half of your daily required vitamin C and about 40% of your vitamin A from your blossoms. The blossoms will also provide a collection of B vitamins.
Pumpkin flowers do have a nice supply of food folate, making pregnancy an excellent excuse to eat an abundance of beer batter fried pumpkin flowers.
In those three cups of squash flowers, you will also get about five percent of your recommended intake of iron, potassium, calcium, and magnesium.
Macronutrients
Component

Amount

% Daily Value*

Calories

15

Protein

1.03 g

2%

Fat

.07 g

0%

Carbohydrate

3.28 g

1%

Potassium

173 mg

5%

Sodium

5 mg

0%

Water

95.15 g

Ash

.48
*The daily value is based on a 2,000 calorie per day diet.
Vitamins
Vitamin

Amount

% Daily Value*

Vitamin C

28 mg

47%

Thiamin – B1

.04 mg

3%

Riboflavin – B2

.08 mg

4%

Niacin – B3

.69 mg

3%

Food Folate

59 mcg

Vitamin B12

0 mcg

0%

Vitamin A – IU

1947 IU

39%

Vitamin A – RAE

97 RAE

Retinol

0 RE

Vitamin D – IU

0 IU

0%

Vitamin D – mcg

0 mg
*The daily value is based on a 2,000 calorie per day diet.
Minerals
| | | |
| --- | --- | --- |
| Mineral | Amount | % Daily Value* |
| Calcium | 39 mg | 4% |
| Iron | .7 mg | 4% |
| Magnesium | 24 mg | 6% |
| Phosphorus | 49 mg | 5% |
| Selenium | .7 mg | 1% |
*The daily value is based on a 2,000 calorie per day diet.
This post was shared at Gooseberry Patch.
Related posts:
You might also enjoy: