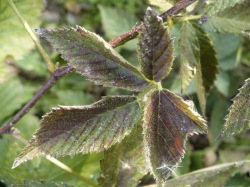 Raspberry leaf is, in fact, the leaf of the raspberry plant that grows the summertime fruit we all love. Raspberries are native to North America and Western Asia. Besides providing a healthy fruit in the summer, the leaf itself can be brewed into a rich and delicious caffeine-free tea. That tea may even have beneficial health properties.
In traditional medicine, raspberry leaf tea has been used to treat a wide variety of ailments, including cold sores, canker sores, and gingivitis. Alternative medical practitioners may recommend raspberry leaf tea in pregnancy to treat morning sickness, diarrhea, leg cramps, and anemia. It is also used as a uterine relaxant. Recent research indicates that women who drank raspberry leaf tea had shorter labor and fewer babies delivered with the use of forceps. Researchers are discovering that raspberry leaf may have antioxidant properties as well (study).
Raspberry Leaf Benefits for Women
Over the centuries red raspberry leaf has been the heralded herb of choice for treating reproductive issues in women. Raspberry tea has been taken to relieve menstrual cramps and symptoms of premenstrual syndrome. It has been used to regulate the menstrual cycle. In some cultures raspberry leaf has been the herbal answer to increasing fertility. Existing reports would indicate this to be a good scientific study, one that needs to be made. Regular use of raspberry leaf is believed to tone and strengthen the uterine muscles in preparation for pregnancy and delivery. Among natural health practitioners there is a recognized regimen for taking raspberry during pregnancy and delivery. It is best to do this under some skilled supervision. Keep in mind as well that there is little research on the use of raspberry leaf in pregnancy.
Where to Buy (Including Buying in Bulk)
If you are shopping for raspberry leaf, you should be able to find it at larger health food stores however the price may be a bit high if you are buying in bulk. Internet vendors are your best bet for bulk purchases of raspberry leaf. Our top pick is this vendor. You will pay a shipping charge and so it is a good opportunity to buy a number of herbs, spices, teas, or extracts from them to help defray the cost of shipping.
How to Store It
When you receive your bulk order of raspberry leaf or after you have collected it and dried it yourself, you will want to take care in how you store it so that it maintains its freshness. The best way to store it is to place it in a glass jar with a tight-fitting lid and keep the jar in a cool, dark place. Your raspberry leaf should stay fresh for at least six months.
Foraging for Raspberry Leaves
Raspberry is a bushy plant native to North America. It is still easily found in woodsy areas that get little human company. Berrying was a favorite family weekend outing in much slower days than the ones in which we live. Times are hectic, but the berries are still there and so are the leaves.
Delectable as the berries are, it is the leaf that has captured much attention because of its long-standing medicinal use. If that is what you are searching for, take to the woods.
If you plan to forage for raspberry leaf, first be certain that you are not trespassing on private property. Check around. Ask other berry pickers where to go.
If you are fortunate enough to know someone who is growing raspberry vines in their garden, you are in luck. Most folks growing the vines are interested only in the berries while you are on course for a load of raspberry leaves. Permission to harvest should be easy to get. Just be sure to harvest the leaves properly so that you do not damage the plants.
Harvesting raspberry leaves is a simple enough process. The prime time for harvest is in the early season before the blossoms open. This is when the vitamin and mineral content of the raspberry leaves is at peak.
Be sure to wear gloves and take small garden clippers. The raspberry vines have countless thorns. Use the small clippers to separate the leaves from the canes. Take just a few leaves from each cane. Do not strip any cane of its leaves. By harvesting in this way you will not jeopardize the berry crop that will come.
If you miss the opportunity of a spring harvest, then harvest after the berries are gone. The nutritional value of the raspberry leaves will not be as high, but there is still high medicinal value in the leaves. If you get the leaves just before the canes are to be cut to the ground, as many growers do, just take the canes to a nice shady spot and strip off all the leaves. Do not worry about the clippers at this point. If the leaves strip off easily by hand, go for it. Do not forget the gloves.
Fresh Raspberry Leaf Tea
If you have the opportunity to enjoy fresh leaves, try this simple tea recipe. Raspberry leaf tea makes a fine base for a tea with a collection of herbals.
Place about three raspberry leaves in a cup.
Pour in boiling water and cover the cup with a saucer to keep in the heat.
Let the tea brew for about ten minutes.
Add honey and lemon to taste.
Drying Raspberry Leaf
Take your leaves home to spread out in a warm, dry, clean place. If you have the room, set up an old screen door between two saw horses in a protected place and dry the raspberry leaves on the screen. Air circulating over and under the leaves will speed up the drying process. Toss the raspberry leaves around every few days to encourage even drying and to keep an eye on how well they are doing.
Raspberry leaves are dry when the leaf crumbles easily and when the vein is brittle. To avoid spoilage in storage, make certain that your leaves have dried to this point before storing in glass containers with tight-fitting lids. Keep your jars in a cool dark place to have raspberry leaves available to you all winter long for teas and a wide assortment of medicinal applications.
Related posts:
You might also enjoy: