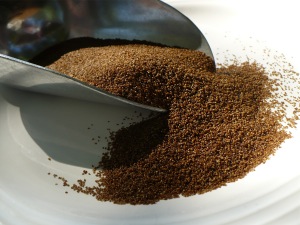 Teff is one of the grains of antiquity originating in Abyssinia, or present day Ethiopia. A prolific seed-producing grass, it was domesticated as early as 4000 BC. Teff seed today remains an important food crop in Ethiopia. These seeds are slightly smaller than poppy seeds. A pound of teff seed can produce a ton of grain in twelve weeks. A farmer can plant an acre of teff with one handful of seed.
Teff falls into the lovegrass group of plants, most prized for animal fodder. Current studies in the US indicate that it may work as a fodder crop. When planted in the early fall, teff grows so quickly and densely that native weeds have no chance of a toehold. Consequently, those farmers growing teff have much less need for herbicides. This is good news for the organic community.
–>Best deal on ivory teff flour at Amazon: right here.<--
Cooking Uses for Teff
Having a mild nutty flavor makes teff an easy addition to baking, stews, and soups. Given its lack of gluten, it is finding an appreciative audience among those with gluten intolerance.
Whole teff seed is a nutritious addition to cooked cereals, stews, soups. The whole seed can be added in its uncooked state to liquid dishes like a soup. It cooks in the soup and serves as a thickening agent. This is one to experiment with–finding the right proportion to fit your pallet.
After it is cooked, it can be added to almost anything your imagination suggests because of its mild flavor. Try adding a bit of cooked teff to your favorite salad dressing. The flavor is only slightly changed with the teff addition, but the nutrient profile improves considerably. Stir cooked teff into a bowl of yogurt or add it to a smoothie. The possibilities for incorporating this nutritious seed into your menus are endless. Keep a supply of it in your pantry.
If you are adding whole teff seed to a baking project such as muffins or coffee cake, sandwich bread or biscuits, then the teff should be cooked before being added to the batter. Uncooked, it will stay hard and be difficult to digest.
Since there is no gluten in teff, using teff flour in bread-making takes some special understanding. Teff flour can be used in combination with a glutenous flour like spelt with the spelt providing the gluten. Gluten is necessary for bread to rise to a light and airy state. When you add teff flour to a recipe you must realize that the final product will be denser than you have experienced before.
For recipe ideas, check out our teff montage on Pinterest. A great place to start, however, is with this simple cookie recipe:
Teff Peanut Butter Cookies
1/2 cup maple syrup
1/2 cup coconut oil
1 tsp vanilla
1 cup peanut butter
1 1/2 cups of teff flour, brown or white
1/2 tsp sea salt
Mix together flour and salt. Set aside. Melt the coconut oil. Combine the coconut oil with the remaining ingredients in a mixer. When well blended, add the dry ingredients. Drop by rounded spoonfuls on a greased baking sheet. Flatten with a fork. Bake in 350 degree oven for 15 minutes.
A Baking Project: Injera
Injera, the flat bread from Ethiopia is 100% teff. How do they do it? Any American cook who has eaten in one of those incredible Ethiopian restaurants asks this question. How do they make this bread?
Even though teff has no gluten, injera is soft and elastic. This flat bread is thinner than a crepe yet strong enough to be used as an eating utensil. Dine Ethiopian-style and you will be given no flatware, just flat bread. Warm teff bread is used for picking up flavorful bits of meat and vegetables and then used to sop up every drop of tasty juice left on the plate.
Injera is the result of sourdough fermenting. A sourdough starter is added to the teff flour and allowed to work on the teff for about three days before being cooked. In that time the yeast from the starter works on the teff to break it down to the point where bread is possible. But remember that this is flatbread, not sandwich bread. The batter is then poured onto a hot round griddle and cooked similarly to crepes.
We are experimenting with injera in our kitchen now with recipes like this one.
Storing Teff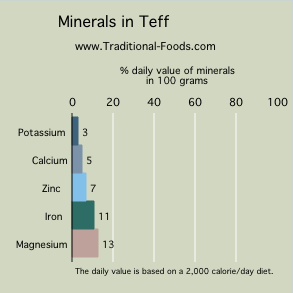 When storing teff seed you can plan on about a one-year shelf life is you keep it in a tightly covered container in a cool dark place. If you find you have a quantity left near the year's end, either use it up or add it to your chicken feed. Of course, most birds love it too. After all, it is in the lovegrass family.
Storing Teff Flour
Teff flour is another matter. Any flour made from a whole seed or grain is much more perishable than the whole seed. Not only does the flour begin to lose nutrients, but is also susceptible to going rancid. Store it in an airtight container to protect it from moisture and keep the container in the refrigerator or freezer. This will protect your investment.
Where to Buy Teff, Including in Bulk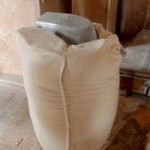 If you live in Ethiopia, you will have no problem finding teff seed or teff flour. Outside of Ethiopia you may have to do some searching. Start with a health food store. Check out the prices when you buy in a brick and mortar. If you are using a considerable amount of either the teff flour or the seed, find a good on-line distributor and buy in bulk. (Here's an online option.)
Buy only the amount of teff seed you believe you will use in a year. Store it properly and be ready to re-order it before the end of the year. Now you will have a more accurate estimate of what you use in a year's time.
Buy The Whole Grain Or Flour?
On this website, we typically recommend buying the whole grain or whole seed and making your own flour. With teff, you may take a different approach. Those tiny hard teff seeds are difficult to turn into flour. It requires grinding, sifting, and more grinding and sifting to get a usable teff flour. If you have the time and patience, go for it. If not, buy the flour. (Here's an option.)
Teff seed comes in red, white and brown. The flour most commonly available in health food stores comes from the brown teff. If you are wanting white teff to make injera, then shop it around. Do not hesitate to question suppliers if you are ordering online.
When buying teff flour, get only the amount you can keep under refrigeration or in the freezer. Depending on your refrigeration space, you may need to order teff flour every three or four months. For maximum quality do not keep teff flour over a year. If you still have teff flour after one year, call it chicken food or call it compost and order fresh.
Nutrients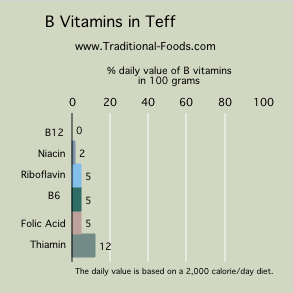 A key reason for the rising popularity of teff is its nutritional profile. It offers a gluten-free alternative to consumers, providing a good source of B vitamins and minerals.
In the nutritional graphs here, the nutrient content is for 100 grams of teff cooked. One cup of teff weighs about 250 grams. One hundred grams is less than one-half cup of teff, providing over ten percent of your daily required iron, magnesium, phosphorus, and copper. It also provides a whopping 143% of your required manganese.
It is a good source of thiamin, niacin, and vitamin B6 as well.
Macronutrients
Component

Amount

% Daily Value*

Calories

101

Protein

3.87 g

8%

Fat

.65 g

1%

Carbohydrate

19.86 g

7%

Fiber

2.2 g

9%

Potassium

107 mg

3%

Sodium

8 mg

0%

Water

74.9 g

Ash

.69
*The daily value is based on a 2,000 calorie per day diet.
Vitamins
| | | |
| --- | --- | --- |
| Vitamin | Amount | % Daily Value* |
| Thiamin – B1 | .18 mg | 12% |
| Riboflavin – B2 | .03 mg | 2% |
| Niacin – B3 | .91 mg | 5% |
| Vitamin B6 | .1 mg | 5% |
| Folic Acid | 0 mcg | |
| Food Folate | 18 mcg | |
| Vitamin B12 | 0 mcg | 0% |
| Vitamin A – IU | 2 IU | |
| Vitamin A – RAE | 0 RAE | |
| Retinol | 0 RE | |
*The daily value is based on a 2,000 calorie per day diet.
Minerals
| | | |
| --- | --- | --- |
| Mineral | Amount | % Daily Value* |
| Calcium | 49 mg | 5% |
| Iron | 2.05 mg | 11% |
| Magnesium | 50 mg | 13% |
| Phosphorus | 120 mg | 12% |
| Zinc | 1.11 mg | 7% |
| Copper | .23 mg | 11% |
| Manganese | 2.86 mg | 143% |
*The daily value is based on a 2,000 calorie per day diet.
Related posts:
You might also enjoy: