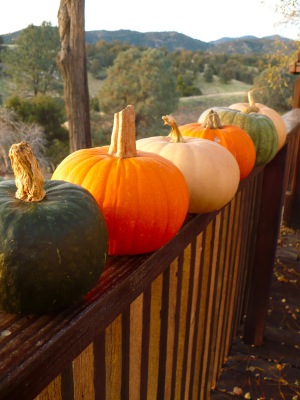 With more emphasis on buying local, and more market gardeners responding to this interest, winter squash is becoming available on a level not seen for decades. Now you can find varieties you have never seen in a grocery store. Besides the always favorite butternut, the huge banana squash and the pointy acorn squash, look for dark and shiny buttercup, warted hubbard in various shades of skin, Long Island cheese and an assortment that more closely resemble a pumpkin than what you know as a squash.
Some History
Winter squash is one of the few food crops native to the Western hemisphere. Most of our vegetables and grains were imported from elsewhere. Winter squash probably originated in Central America based on archeological findings. There are reports of seeds dating back 12000 years located in a cave in Ecuador. Another report describes seeds found in a cave in Mexico. These seeds are estimated to be stashed there between 7000-5000 BC.
From Central America it is presumed that the seed spread by humans into all of South America and North America. Native populations cultivated it and saved and traded seed. Squash became one of the three basic foods of many Native American tribes: squash, corn, and beans.
The Spanish explorer Francisco Pizarro discovered winter squash as he trekked through Peru. Pizarro brought seed home with him, but no one was impressed. The English cataloged it but were not interested in eating it. When the colonists of Plymouth Rock were served this squash by their Native neighbors, the colonists were not impressed either. In fact, a fun article in the Chicago Tribune describes the reaction: "After the Indians left, the Pilgrims fed it to their pigs, dubbing it 'the meanest of God's blessings'."
An Uninteresting Vegetable?
Two reasons winter squash has not become a North American household staple include the bland flavor of squash and the space required for growing it.
Other than pumpkin pie, most folks have not tasted anything remotely interesting in the way of cooked winter squash. Take the Plymouth Pilgrims as an example. According to the Chicago Tribune, their Native friends served them a squash stew with fish in it. If you have never encountered such a combination, you could be pretty turned off. The Pilgrims were. It was years before the settlers in this country saw the wisdom in growing a vegetable that would keep for months in a cool place. Our early immigrants were into surviving. They had no time for gourmet foods. Winter squash stayed pretty bland on most menus.
These days there is a growing army of brave cooks going were no cook has gone before. On the Internet you can find the most interesting and delectable dishes calling for winter squash. Some of the recipes are totally new in concept, others are adapted from ethnic cuisines that embraced the winter squash long ago. Whichever type of squash you get your hands on, you can find some wonderful way to prepare it.
We have a stash of winter squash in five different varieties. One goal is to try a new recipe each week in expanding our use of this nutritious and versatile vegetable. We have enjoyed it as a snack of roasted squash cubes, an Indian-inspired soup with curry and coconut milk, long wedges of butternut roasted with maple syrup, orange and cinnamon glaze, breads galore, and even cookies. There is no end to the fun of discovery. Winter squash need not be bland, by any means!
Too Sprawling?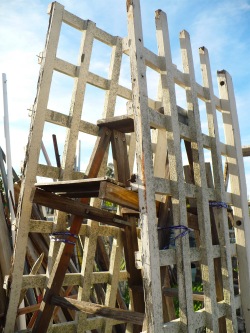 Whether the squash variety is bush or vine, it requires much more garden space than do most vegetables. Many gardeners decide they cannot afford that kind of space and opt-out.
If you garden and love winter squash, be assured the space problem can be fixed. Recently I read a post by a man who said that soon after WWII, he saw squash vines in Japan trained up arbors, up trellises to the roof where more support was given.
The Japanese are masters at growing a lot in little space. In the last couple of years I have watched older gardeners in a Southern California community garden do just that. Many of the gardeners are Asian and I study their wisdom on the much food from little space.
For winter squash they build armatures of cast-off pieces of metal and/or wood. Most of us would call this junk. But, this junk is put together to provide a strong base for the heavy vines to climb, twine and get loads of sunshine. Study the pictures of bare armatures and imagine the wall of green they become in squash season. The space problem can be addressed.
Varieties
Winter squash is usually broken down into three main categories: acorn, butternut, and maxima. The acorns are the smallest, butternut medium, and maxima can be more like a pumpkin. These squash come in all sorts of colors and textures, works of art, really. Read through seed catalogs to get a handle on what you want to buy or grow.
Did you know that much of what is sold as canned pumpkin is actually winter squash? Several varieties of squash are more dense and sweet than pumpkin. You will probably want to make that tweak yourself.
Did you know that buttercup squash was developed to make up for a failed sweet potato crop? Try it out if you can find some. The sweetness and color is very similar to sweet potatoes.
Did you know that winter squash cubes take the place of potato cubes in many ethnic stews and soups? Try this in Moroccan stew and you will completely won over.
Shopping for Winter Squash
Find a good place to shop, a place where the merchant knows the crop. You can gather a world of information about the winter squash available in that location. In the mean time, here are a few pointers.
Shop a local stand rather than the grocery store. You can be more confident that the crop is local and fresh.
If you are looking for intense coloring in the meat of the squash, ask the merchant which to
The same advice is true for sugar content. Ask. You can always add sugar to a recipe calling for winter squash puree. However, if you want to roast the squash in slices or cubes, the sugar content of the squash should be as high as possible to get the caramelizing that is so delish.
If you want winter squash that will hold for a number of months, pick the ones with the hardest skin. Again, check with the merchant for help with this. Then store your stash in a very cool, dry place and check every few weeks for squash that may begin to break down. If any show signs of deterioration, remove them immediately so they do not affect the rest of your winter squash supply.
Cooking Winter Squash
We have an assortment of resources on the website for winter squash, including a detailed post on butternut squash which you can adapt to the winter squash of your choice.
Roasting Winter Squash

Do not miss your opportunity to roast your winter squash, an easy preparation method which actually brings out the natural sugars in the squash, caramelizing it. Read our instructions for inspiration:
Roasted vegetables (including ideas on how to mix and match your vegetables, creating appetizers and other quick dishes.
Puree in Soups, Desserts, and Breads
The most common use for winter squash is the puree. Winter squash puree is the base for various soups, and a variety of cakes, pies, puddings, cookies and breads. If you are going to bake squash for puree, fill the oven. It makes no more mess and takes little more time. This way you have puree to stash in the freezer. Freeze the winter squash puree in measured amounts that fit with your favorite recipes.
Find inspiration among the recipes on this site for using winter squash in soups and breads: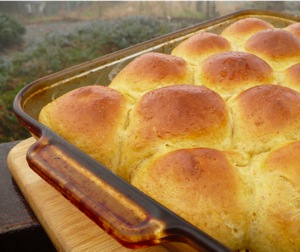 Growing Your Own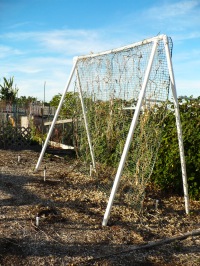 If you have been wooed enough to grow some of your own winter squash, follow these simple guidelines:
Plant where the drainage is good. Winter squash is a heavy drinker, but not a good swimmer.
Plant in rich soil. Have plenty of good compost, organic mulch and an occasional side-dressing of fish emulsion. Winter squash is a big eater.
Select a location with a minimum of six hours of sunshine.
Give the vines room to roam: either on the unplanted edges if you have a lot of ground, or up an armature if you don't. If you plan to build a support for your vines, then the squash bed should be on the north edge of the garden so as not to shade out the rest of the garden rows.
Harvest when the skin of the squash gets hard and the stem shrivels and gets dark. Cut the stem leaving a three-inch piece attached to the squash. Leave the squash in the sun for about a week to cure and harden.
Store in a dark, cool. dry place. Sixty degrees is considered optimum for most winter squash. There are reports of winter squash being held for a year, still in good shape. I don't have personal experience with this. We eat ours before the winter is over. You probably will too once you get to experimenting will the enticing recipes showing up on the internet.
Nutrients in Winter Squash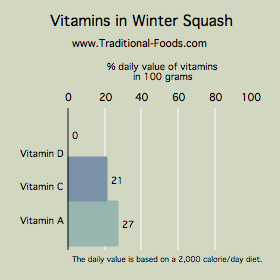 Winter squash is a healthy and nutritious food. As part of a massive project on tracking the nutrient data of foods, this nutrient data on winter squash comes from the USDA nutrient database. It is based on 100 grams of winter squash — just under one cup of squash cubes.
Note from the graph at right that butternut squash is a good source of vitamin C and vitamin A. It also supplies B vitamins and minerals as well.
Check out the full nutrient profile below.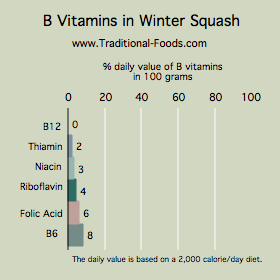 ~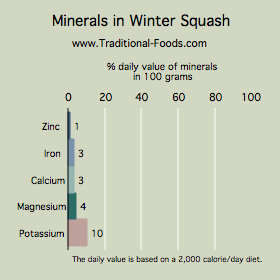 Macronutrients
Component

Amount

% Daily Value*

Calories

34

Protein

.95 g

2%

Fat

.13 g

0%

Carbohydrate

8.59 g

3%

Fiber

1.5 g

6%

Potassium

350 mg

10%

Sodium

4 mg

0%

Sugar

2.2 g

Water

89.8 g

Ash

.57
*The daily value is based on a 2,000 calorie per day diet.
Vitamins
| | | |
| --- | --- | --- |
| Vitamin | Amount | % Daily Value* |
| Thiamin – B1 | .03 mg | 2% |
| Riboflavin – B2 | .06 mg | 4% |
| Niacin – B3 | .5 mg | 3% |
| Pantothenic Acid – B5 | .19 mg | 2% |
| Vitamin B6 | .16 mg | 8% |
| Folic Acid | 0 mcg | |
| Food Folate | 24 mcg | |
| Choline | 10 mg | |
| Vitamin B12 | 0 mcg | 0% |
| Vitamin A – IU | 1367 IU | 27% |
| Vitamin A – RAE | 68 RAE | |
| Retinol | 0 RE | |
| Alpha Carotene | 0 RE | |
| Beta Carotene | 820 mcg | |
| Beta Cryptoxanthin | 0 mg | |
| Vitamin E | .12 mg | 0% |
| Vitamin D – IU | 0 IU | 0% |
| Vitamin D – mcg | 0 mg | |
| Vitamin K | 1.1 mcg | 1% |
| Lycopene | 0 mcg | |
| Lutein and Zeaxanthin | 38 mcg | |
*The daily value is based on a 2,000 calorie per day diet.
Minerals
| | | |
| --- | --- | --- |
| Mineral | Amount | % Daily Value* |
| Calcium | 28 mg | 3% |
| Iron | .58 mg | 3% |
| Magnesium | 14 mg | 4% |
| Phosphorus | 23 mg | 2% |
| Zinc | .21 mg | 1% |
| Copper | .07 mg | 4% |
| Manganese | .16 mg | 8% |
| Selenium | .4 mg | 1% |
*The daily value is based on a 2,000 calorie per day diet.
Related posts:
You might also enjoy: