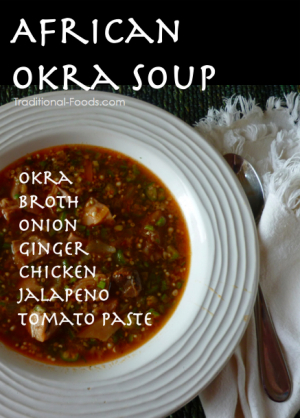 Did you know that okra originally came from West Africa? I grew up thinking it must have originated from Louisiana since I had never encountered okra until we moved there. Okra came fried, gumbo-ed, and pickled. I enjoyed it all. I still do.
In striking out and finding new tastes it's always profitable to check cooking methods and recipes that come from the area where the particular food originates.
The inspiration for this okra soup comes from the African Culinary Network. I say "inspiration" because my method of putting this soup together is quite a bit faster, using leftover cooked chicken. While my version comes close to being instant, do check out the inspiring website. It's loaded with information on food history and nutrition as well as fascinating recipes.
While I have not been to the Volta region of West African and cannot verify the authenticity of my soup version, I can say it is tasty and interesting…with one caveat. This soup uses the mucilaginous quality of the okra as a thickener. If you have an aversion to okra "goo", this soup is not for you. There are other delicious ways to prepare okra that do not include the slime.
Given the fact that the okra cooks only a couple of minutes and the fact that any nutrients leaching from the okra are picked up by the chicken bone broth, this is a nutritionally power-packed soup. Remember, okra is the super food that will gain fame in the next few years.
In the original recipe the seeds are removed. Apparently in that region only the poor folk eat this dish with the seeds present. Those seeds contain vegetable protein and oil that I will not lose. So for my version, the seeds stay!
African Okra Soup Ingredients
1 pound okra, washed and trimmed
2 cups leftover cooked chicken
2 tablespoons saute oil of choice
1 small onion, minced
2 teaspoons minced ginger
1 jalapeno pepper, seeded and minced, or 1 teaspoon hot pepper flakes
2 tablespoon tomato paste (I love my homemade freezer stash for this.)
3 cups hot chicken bone broth (right out of the slow-cooker, how easy!)
salt and pepper to taste


African Okra Soup Steps

Chop the okra into a medium mince.
Heat the oil in a medium soup pot. Saute the onion, pepper and ginger just until the onion is translucent.
Add the tomato paste and stir it in well.
Pour in the hot chicken broth.
Bring to a simmer. This should take only a couple of moments.
Add the chicken and bring back to a simmer.
Stir in the minced okra and cook for two minutes.
Taste for salt and pepper and make adjustments.

Serve hot with a good flat bread.

Related posts:

You might also enjoy: