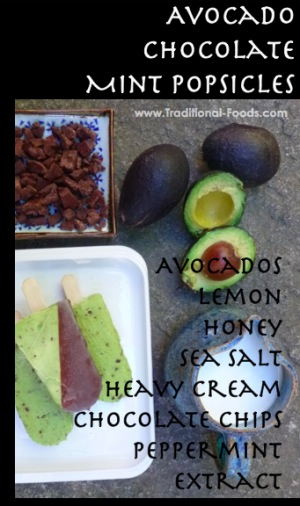 The first time I tasted an avocado I was on the USS Anderson, an Army ship transporting us to Okinawa where my dad was stationed. After spending the first ten years of life in the Northern East Coast, I was in for lots of tropical discoveries. Avocado was the beginning.
These days avocado does not seem quite so tropical or rare. In fact, two times each year we are able to purchase them four for a dollar. Having such a bountiful supply, we have made the avocado regular fare for a number of uses. What is new is experimenting with avocado desserts. When you think salt and garlic in the same second as avocado, it takes a bit of adjustment to start thinking about honey.
Encouraged by comments on our Facebook page, I explored some possibilities and lured into trying a pudding recipe adapted by the Mother Earth News staff on assignment in Brazil.
The pudding is delightful. I served it in a nut crust. The only problem with the recipe is that the avocado flavor is recognizable. I have two grandsons who each decided in their first months of life that avocado was not edible. If these two little guys did not look so much like their parents, I would suspect that the wrong babies were sent home from the hospital! It would be nice to not have to fool these children about what they are eating, but in the interest of getting high calorie-dense nutrition into them, I do just that.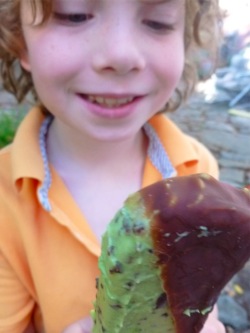 One of Frederick's favorite treats is chocolate chip and mint ice cream. I used the Mother Earth News recipe, adding some homemade chocolate flakes and mint flavoring. It was dreamy! Then I froze the mixture in popsicle molds.
Green mint popsicles with chocolate flakes: Do I hear applause?
(Pictured at right is a totally duped avocado-hater.)
The texture is CREAMY to the max and the popsicle does not freeze solid like an ice cube, making it easier to eat.
To be even more decadent, we dipped some of these lovely popsicles into a homemade chocolate sauce that hardens when chilled. This makes an avocado fudgesicle of sorts. Talk about high calorie-nutrient dense treat! This popsicle is filling and satisfying. It is so rich, you might want to fill your popsicle molds only part way.
Avocado Popsicle Ingredients
3 ripe avocados, peeled and pitted
1 lemon, juiced
1/2 cup honey (runny)
1 cup heavy cream
1/4 teaspoon sea salt
8 drops peppermint extract
1/2 cup chocolate chips
Follow our magic shell recipe for the fudge sauce.
Avocado Popsicle Steps
In a medium sized bowl thoroughly mash the avocado.
Mix in the lemon juice and a honey until fully blended.
Add the cream, salt and peppermint. Mix. (Not all peppermint extracts are equal so be careful with this. Add a drop or two at a time, tasting as you go. Find the perfect mint balance for your palate.)
Fold in the chocolate chips. I used homemade chocolate chips that I thought were too big for the popsicles. The chocolate flavor would have overpowered the avocado mixture. With hammer in hand, I downsized the chips until they were slivers.
Pour the mixture into molds and insert popsicle sticks. We use wide ones from Michael's craft supply. The wider stick holds onto the popsicle really well for little folks.
If you opt to dip into fudge sauce, freeze the popsicles to a hard freeze (which may take 24 hours). Unmold the popsicles and put them back into the freezer for about fifteen minutes. This ensures a completely frozen surface which will take the fudge sauce more willingly.
This recipe was shared at Homesteader Blog Carnival, Melt in Your Mouth Monday, Made with Love Mondays, My Meatless Mondays, Monday Mania, Mangia Mondays, Making Mondays Marvelous, More the Merrier Monday, Motivate Me Monday, Something I Whipped Up Monday, Market Yourself Monday, Marvelous Mess, Meet Me Monday, Mop It Up Monday, Make Your Own Monday, Homestead Barn Hop, Weekend Gourmet, Mouthwatering Monday, Fat Tuesday, Slightly Indulgent Tuesday, Naptime Creations, Tasteful Tuesday, Tuesday Confessional Link Party, Today's Creative Blog, Titus Tuesday, Tutorial Tuesday, Domestically Divine Tuesday, Topsy Turvy Tuesdays, Traditional Tuesdays, Take a Look Tuesday, Tuesday Talent Show, Nifty Thrifty Tuesday, Frugal Tuesday Tip, Gathering Spot, Tuesday Time Out, Living Green, Tempt My Tummy Tuesday, Totally Tasty Tuesday, Thankful Homemaker, Show Me What Ya Got, Women Living Well, Works For Me Wednesday, Allergy Free Wednesday, Healthy 2Day Wednesday, What's Cooking Wednesday, Gluten Free Wednesday, Recipe Box, Your Whims Wednesday, Penny Pinching Party, Wow Me Wednesday, What I Whipped Up, Real Food Wednesday, Frugal Days Sustainable Ways, Whole Foods Wednesday, Wildcrafting Wednesday, Homemaking Link Up, Whatever Goes Wednesday, Full Plate Thursday, Penny Pinching Party, Creative Juice, DIY Thrifty Thursday, Frugal Food Thursday, Show Off Your Stuff, Swanky Stuff, Simple Lives Thursday, Pennywise Pltter, Cooking Thursday, Green Resources, Delightfully Inspiring Thursday, Green Resources, Commercial Break Thursday,

Related posts:
You might also enjoy: