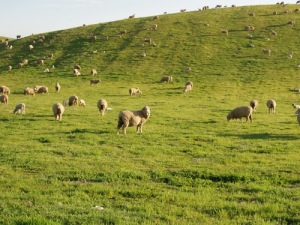 Lamb chops are a great addition to any cooking plan. Lamb has a strong flavor that some people do not care for — most people either love or hate lamb. My lamb expert friends warn me never to fry lamb but to stick with grilling or baking. Here we make baked lamb chops with a Moroccan flair, but be warned that this is a long, slow cook. Save this baked lamb chops recipe for one of those times when you will be around the house for a few hours. Given the cooking time and the warm oven you will have, consider doubling or tripling this recipe and tuck some lamb chops into your freezer. When we freeze baked lamb chops, we bag each piece in small freezer bags individually.
Lamb Chops Shopping Deals
Lamb can be a fairly expensive meat to buy but we often find specials in our local markets in the late spring, just after the Easter holidays. If your grocery store has an area where they put ous down, watch that area carefully. When you find lamb chops or any other cut are interested in, be sure to fill your cart up to your budget's limit. In fact, if you can find out when this section gets stocked, you should plan your shopping trip around it if at all possible. Baked lamb chops are worth the trouble. The meat is grass-fed to boot. Most lambs in the United States are grazed on pasture as in the picture above of a flock of sheep near our house.
How To Bake Lamb Chops
Watch the video below on baked lamb chops. Feel free to go old school and read the instructions below for baked lamb chops.
Serves 4
Ingredients: Baked Lamb Chops
8 lamb chops (2 per person)
Ingredients: Rub For Baked Lamb Chops
6 cloves garlic, finely minced
2 teaspoons ground coriander
2 teaspoons ground cumin seed
1 teaspoon black pepper
2 teaspoons paprika
½ teaspoon cayenne
1 cube of softened butter
2 teaspoons sea salt
Steps: Baked Lamb Chops
Place the chops in a large baking container with at least ½ inch sides. There will be some oil released and you don't want it released onto the floor of your oven.
Thoroughly mix together all the ingredients of the rub and rub onto both sides of the chops. Use all the rub, even though it seems extravagant. It is extravagant! Wait till you taste these fine chops!
Bake at 400 for about ten minutes, then turn the oven down to 300. Bake for 11/2 to 2 hours. The meat should be falling of the bones. Serve hot with rice to soak up the incredible sauce or with quinoa, amaranth, or bulgur.

Variations: Beyond Baked Lamb Chops

Do adapt this baked lamb chops rub for any type of lamb roast. Be generous with the rub. A large roast could take as long as 3 hours to reach the fall-from-the-bones state. The wait is worth it.

Related posts:

You might also enjoy: