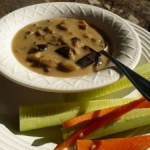 We have been lucky enough to try bison marrow bones for the first time this week here in our Traditional Foods kitchen. We thought they might have a strong flavor like lamb bones tend to have. We wondered if they would just be a gourmet version of beef bones.
We were so pleasantly surprised by these bones we could just gush. (And we pretty much did just that in the videos below.) The bison marrow bones are available to purchase here by mail order.
The flavor is distinct but not too strong. The broth is extremely rich.
One of the biggest surprised for us was the fat itself. While we normally discard the fat in our soup-making, we did wonder about the bison fat. We set aside the small amount of fat we roasted off the bones us the bit that was floating on the top of our first batch of broth. With this fat, we made a white sauce that was out-of-this-world. We added cream to that sauce and used it as the base of a roasted eggplant soup that was the best soup I have tasted in a long time. We will update this post with those recipes or links, but in the meantime, check out the bones and the broth.
Bison Broth Review
In this bison broth review on YouTube posted below, Mom discusses her use of the first three batches of broth from these bones. She shares some wisdom about which broth to use in clear soups and which to save for other uses.
Around here, we get as much as we can out of our bones, stewing them over and over again as we did with these bones that gave us twelve days of gelatin-rich broth (See the amazing bone broth video on YouTube.)
Bison Broth Close-Up
We were so amazed by the richness of this broth that I took a close-up of the bones after three days of broth-making. We have gotten five great soups out of this broth so far, the first three of which were extremely rich and flavorful. As we headed into the fourth and fifth soups, we added stronger seasonings to help carry the flavor of the soup.
Watch the video on YouTube (bison broth video) or watch it below.
Bison Broth: Our Process
We describe the ends-and-outs of bone-broth-making on our bone broth page, but these are the highlights for bison broth. In the videos above we used bison marrow bones, but any type of bison bone will work. Marrow bones tend to have a full, rich flavor.
Brown bison bones in the oven for best flavor. (To do so, place the bones in a 350-degree oven, give or take, until brown.)
Place bison bones in a crock pot or soup pot.
Add vegetable scraps as they are available.
Cover bison bones and scraps with water: Set the water level about one-inch above the bones.
Add two tablespoons of apple cider vinegar or other culinary vinegar.
Cover the pot and set on low (crock pot) or simmer (stove top).
Keep the lid slightly ajar as the bison broth warms up to avoid boiling. (Or don't worry about it, but do make sure your liquid does not boil out or you will be left with burned bones.)
Strain the bison broth about 24 hours later.
Use the fresh bison broth for dinner. (Add the dinner vegetable scraps to the next batch of broth.)
Add water to the bones again and make a second batch of broth. (Keep doing this until you are tired of it or your bones have disintegrated.)
Free Broth And Soup Course On Facebook
We used these bones in filming the videos for our broth and soup course which we will offer exclusively on Facebook this summer. This is a free course on Facebook, a course which we will offer for sale on this website in the future. Find us on Facebook, save a few bucks, and get early access to the class.
This post is part of Traditional Tuesdays, Made From Scratch Tuesday, and Tasty Tuesday.
Related posts:
No related posts.