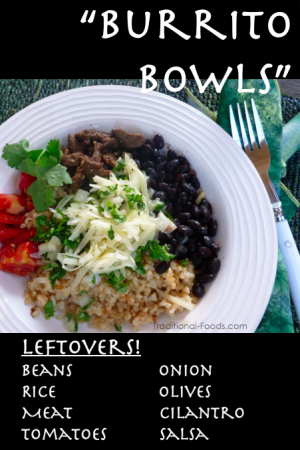 This is a meal of planned leftovers. Inspiration for the burrito bowls came from a restaurant we found serving a dish by the same name. The food they serve is tasty and relatively healthy compared to most restaurant fare.
We stood looking over the array of additions possible in these burrito bowls and said, "We have leftovers that look much like this!" Brilliant idea: We will plan to have several leftovers available this week for assembling a similar burrito bowl.
Of course, our burrito bowls beat out the restaurant version. Our beans and rice are cooked in bone broth, so the flavor and nutrition are at peak. The salsa is our own and any vegetable additions are exactly what we like. For instance, mince white onion and cilantro together to sprinkle on top of the cheese. Oh yes, the cheese! We can pick our own favorite. Mine is grated mild cheddar. Add the onion-cilantro mix and you have a dish of beauty!
Every burrito bowl experience is different depending on what is leftover from previous meals and what is coming fresh from the garden. The salsas are usually different as well, since we experiment quite a bit in this arena. No matter what gets combined, we have yet to have a hum-drum meal. Try it and you will give the same report.
Burrito Bowl Ingredients
Leftovers
Minced green onions
Sliced black olives
Cilantro, minced (Try it minced with white onion!)
Avocado, cubed
Fresh jalapeno peppers, minced
Garden fresh tomatoes, cubed
Cucumbers, cubed and sprinkled with lemon juice and chili powder
Green cabbage, very thinly sliced
Lime wedges
Chili powder
Burrito Bowl Steps
Warm up the beans, rice, and meat in pots over low heat. Add a bit of broth to each pot to help build up the steam. Cover each pot with a tight-fitting lid.
If you have plenty of fresh cilantro, put a handful of stems over one or all of these ingredients before the lid goes on. As the steam builds the cilantro flavor will drip down into the rice, beans, and/or meat. Heavenly! Before serving up the burrito bowls, toss the wilted cilantro into the compost bowl.
Set out all the available additions for the burrito bowls while the three pots are warming.
Warm the bowls you will serve in. The pilot of our oven works well enough to make the oven a good bowl warmer. Sometimes we set bowls on top of the wood stove for a few moments in our very cold winter kitchen.
Serve up the warm ingredients in the bowls and then let everyone do their own additives, buffet style. This is fun and it looks like a feast. (Actually, it tastes like a feast, too!)
At times we've had just a little rice, beans and meat left. No prob! Mix them together and roll up the mix with some cheese in a tortilla. Fry it later or the next day — it is a wonderful leftover from the leftovers.
This post was shared at Gooseberry Patch's Shortcut Recipes.
Related posts:
You might also enjoy: