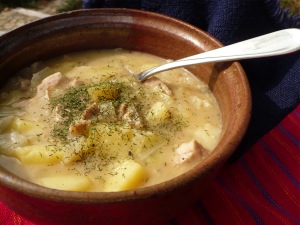 This cabbage potato soup is a perfect winter soup: hearty and satisfying, creamy and flavorful. Enjoy it as it is or add leftover bits of cooked meat like chicken or pork. Serve this soup with a green salad tossed with a bright vinaigrette. Have a hot crusty sourdough bread with lots of butter and everyone will leave the table smiling. The leftover soup freezes well.
In choosing your potatoes, consider that red potatoes are waxy and hold their form longer than a russet. Either potato works in this recipe, but the texture will vary slightly.
Cabbage Potato Soup Ingredients
2 quarts chicken bone broth
1 large onion, finely chopped
4 cloves garlic, minced
2 tablespoons light olive oil
5 cups scrubbed and cubed potatoes
1 small head of cabbage or 1/2 large head, finely shredded
1 tablespoon caraway seed
Salt and pepper to taste
1 cup whipping cream
Cabbage Potato Soup Steps
Heat the broth in a large soup pot and maintain over low heat.
Saute the onion, garlic and caraway seed together in the olive oil until the onions just begin to show some brown. This gives a richer flavor to the soup than if you just dropped the raw onion mix into the broth.
Place the potatoes in the hot broth while the onions are sautéing.
Shred the cabbage and add to the simmering pot.
Add the onion and garlic sauté to the pot.
Stir and check for salt and pepper.
Break up the cooked potatoes a bit to thicken the soup.
Stir in the whipping cream. If you want a thicker soup, add 3 tablespoons to the cream and slowly drizzle the mixture into your pot, stirring all the while.
Serve garnished with some fresh parsley or a sprinkle of caraway seed.
Related posts:
You might also enjoy: