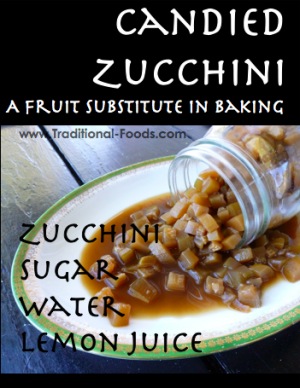 Every summer season we aim to experiment with at least one new way to enjoy zucchini. During one zucchini avalanche I decided to try something really far out: candied zucchini. I found the recipe in a book by Yvonne Young Tarr called The Squash Cookbook.
Initially the idea of candied zucchini was not that intriguing but the way she used the candied zucchini in a sour cream coffee cake was. Yvonne Tarr was an artist with food and found a number of ways to use candied zucchini in recipes where no one would suspect what they were eating. Imagine a whiskey pudding, a diplomat pudding, or perhaps a mock pineapple pie, each with candied zucchini. It's all delectable but sour cream coffeecake is still my favorite. The zucchini stands in as a fruit in these recipes, for a fraction of the cost of fruit (especially if you have a garden churning it out).
Making the candied zucchini is super simple although it needs to sit overnight in the refrigerator to fully develop its candied appeal. This is an opportunity to use your overgrown zucchini. We attempt to have no zucchinis get more than 6 inches long however, the inevitable happens and one ends up looking like a small watermelon. Simply peel that big boy, scoop out the seeds and seed pulp, and cut the zucchini into cubes. If you plan to dehydrate the candied zucchini pieces, then use smaller, young zucchini for your project. (We will post about dehydrating it later this week.)
We find that dehydrated candied zucchini is an excellent substitute for raisins. The regular candied zucchini works well in recipes that call for fresh fruit.
The Squash Cookbook I own has a 1978 copyright. It went through reprints and a new cover design but is now out of print. Thanks to the power of the Internet, it is still available from some vendors on Amazon and it is a book worth investing in.
Candied Zucchini Ingredients
6 medium sized zucchinis
2 cups sugar (use your best — a whole foods sugar if you have it)
3/4 cups water
1 tablespoon lemon juice
Candied Zucchini Steps
Wash and peel the zucchini. My peeler leaves a wee bit of green. No problem! After the cubes have cooked and sit in the sugar syrup overnight they are dark brown and the green does not show. Of course, I've used a natural sugar that is brown itself. It gives a slight "brown sugar" flavor to the zucchini that I really enjoy.
Cut the zucchini into 1/2 inch cubes — as cubed as you can get a vegetable that starts out as a cylinder.
In a large saucepan, mix the sugar and the water. Bring it to a boil then let it cook over medium heat for five minutes. You now have sugar syrup.
Drop the zucchini cubes into the syrup and cook until the cubes are just becoming tender.
Remove the pan from the heat and stir the lemon juice into the zucchini/syrup mix. Cool.
Place the cooled candied zucchini into a glass jar or covered bowl. Refrigerate overnight before using. I have kept this in the refrigerator for up to a week without losing any quality. It may keep longer than that.
If you have made more candied zucchini than you can use in a week, consider freezing or dehydrating the cubes. Both methods work well and provide candied zucchini to enjoy when winter comes.
Related posts:
You might also enjoy: