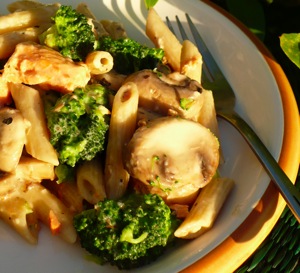 I made this canned salmon dish in someone else's kitchen, away from the seasonings and fresh goodies I hold so dear. Dinner felt almost instant and the flavor was scrumptious. This just goes to show that we have no excuses for not eating well.
For as extravagant as this dish looks and tastes, it is really quite economical. Start exploring the possibilities that a quality canned salmon presents and you will be amazed. Flavor, nutrition, and economy are all in one can. (Check out our canned salmon review to watch me gush about my favorite canned salmon.)
This Alfredo salmon dish is enough for four hearty appetites. Serve it with mixed greens dressed in a light vinaigrette. A cup of lemon verbena tea sweetened with a bit of honey makes a superb finish for this salmon meal.
This recipe is adapted from the CDKitchen. They would not claim this recipe, but they were the inspiration. Online recipe sites can be such a catalyst to creativity.
Canned Salmon Alfredo Ingredients
1 can of sockeye salmon (that really pink kind!)
2 1/2 cups whole grain penne, uncooked
1 cup sliced mushrooms
4 cloves minced garlic
2 tablespoon butter
1 teaspoon dry basil (fresh if you have it)
1/2 teaspoon each of sea salt and freshly ground pepper
1 jar Newman's Alfredo Sauce (I support his causes and he sometimes saves my bacon, like this time! You can also make your own white sauce.)
3 tablespoons dry white wine
3 small broccoli crowns broken into pieces
Canned Salmon Alfredo Steps
Bring a large pot of water to a boil. If you have chicken bone broth, use it. But when you drain the liquid from the cooked pasta, save it. It's like borrowing the broth for a task and turning it into soup later. This way your pasta gets some extra nutrition cooked in.
In a large skillet saute the garlic and basil in butter for a minute. Then add the mushrooms. Cook until the mushrooms are almost cooked to perfection – as you define perfection. Then add the salt and pepper. Stir gently.
Add the Alfredo sauce to the cooked mushrooms.
Measure the wine into the now empty sauce jar. Put the lid back on and shake like crazy. This gets the rest of the sauce clinging to the sides. You paid for all of it, remember.
Add the wine mix to the skillet and stir all.
Simmer this sauce for a few minutes to cook off the alcohol and blend the flavors, then add the salmon, broken into pieces..
At some point your water started boiling. When it does, add a half teaspoon sea salt and a teaspoon olive oil. Then pour in the penne. The penne will probably be cooked in nine minutes. About seven minutes add the broccoli.
When the penne is cooked to your liking, pour into a strainer.
Add the broccoli and penne to the large skillet with the sauce. Toss gently to coat all the luscious bites with sauce.
Serve hot with freshly grated Parmesan cheese on the side.
If there are any leftovers, consider them for a brown-bag lunch. This is still delicious cold or at room temperature.
Related posts:
You might also enjoy: