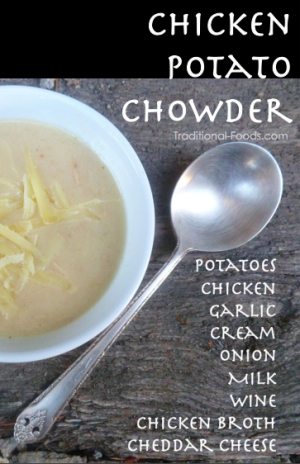 Have you noticed that the best soups get built from what you have on hand? They're always a bit of a surprise and never totally reproducible. Each reproduction is a bit unique and just as satisfying as the first time around. How does this happen? My theory is that we already have food items around that we love. The sorting process was performed some time back and the dishes we prepare satisfy our own particular palates.
Take this soup, for instance. When I get hungry for soup I'm always thinking chicken bone broth. My favorite soups have this as a base. So does this household have chicken bone broth available? Yes…in the crock pot and in the freezer.
Yesterday I was craving a really rich chicken broth, the first batch of broth from a set of chicken bones. And guess what? Our freezer also houses chicken bones, particularly for moments like this.
Last night those bones went in the crock pot. Some of them had dark meat clinging to them. All the better! The broth went for about 12 hours when I turned off the heat for the chicken to cool enough for me to retrieve the meat. The scent of the bone broth filled the kitchen air with promise. This was exactly what my body needed!
With little effort I was able to turn the broth and chicken bits into a tasty and satisfying main dish. In fact, this was so easy that I threw together a pan of biscuits to have with the soup.
This recipe feeds 4-6 depending on appetites and how many biscuits you have along with it.
Chicken Potato Chowder Ingredients
1/2 gallon hot chicken bone broth
1 large onion, finely minced
4 large cloves garlic, finely minced
2 tablespoon chicken fat (or your favorite cooking oil)
4 large russet potatoes, peeled and cut in 1 inch cubes
3 cups bits of leftover chicken
2 tablespoons dry white wine
1 cup whipping cream
1 cup whole milk
3 tablespoons thickener of choice such as tapioca flour
2 cups grated sharp cheddar cheese
Salt and pepper to taste
Chicken Potato Chowder Steps
Melt the chicken fat in a large soup pot over medium heat.
Saute the onion and garlic in the chicken fat until the onion just begins to brown.
Add the cubed potatoes to the onion mix and toss to coat the potatoes. Sprinkle on a little sea salt.
Let the potatoes braise for about 5 minutes before adding the hot chicken bone broth.
Cook the potatoes over a medium flame until they begin to break down. Mash them a bit with a vegetable masher.
Add the chicken bits and wine. Stir well and heat until the soup is back to a simmer.
While the soup is regaining its heat, mix the cream, milk, and thickener in a small bowl. Mix well with a small wire whip. Break down any lumps that appear from the thickener. With tapioca flour, this is seldom a problem.
Once the soup is simmering again, add the cream mixture, slowly, stirring the whole time. Continue to stir for a minute or two and then turn off the heat.
Ladle the soup into warmed bowls and each serving with a generous heap of cheddar cheese. Do not leave out this ingredient. It beautifully finishes the soup.
Check for salt and pepper. Remember, the cheese has salt so want to add salt after the cheese has melted in.
Serve up your favorite hot bread and dig in!
If you have leftovers, reheat just to the simmering point. Do not boil or the cream from the milk might curdle.
Related posts:
You might also enjoy: