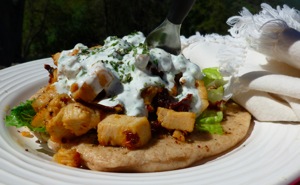 Having leftover bits of chicken or turkey is such a time-saver but you do not necessarily want them looking or tasting like tired leftovers. Here is a super-quick chicken salad renovation. The meat sautes with some freshly minced garlic to give the chicken a fresh-cooked quality. Adding the oil-soaked dried tomatoes lends a depth and richness you do not associate with chicken, particularly white meat chicken. The tomato adds a bit of color, but primarily it is a flavor additive. It can be served warm or cold.
The end result looks somewhat like hash so you will want to serve it in creative ways, making it appear that you have labored long and hard. Here are some ideas for using this chicken salad with tomato combination:
Add it to a pita pocket along with greens, cucumber, and spicy yogurt dressing.
Top a pile of mixed greens that have been tossed with a vinaigrette. Sprinkle toasted nuts on top – any kind will work: pine nuts, cashews, walnuts, almonds.
Chop the chicken into really small bits and use it to build a lavash sandwich along with crispy greens, onion, avocado and arugula. Smear plenty of homemade garlic mayonnaise on to help blend all the flavors.
Drop a scoop into a bowl of hot chicken bone broth and you have an instant gourmet soup. Garnish the soup with a couple long sprigs of sweet oregano. Side it with a slice of crusty sicilian sesame read with plenty of butter. Oh my! Now you have a magazine-quality lunch.
Add it to a pan of reheated brown rice pilaf. Lay springs of fresh oregano over the mix as it heats. Keep the lid on and let the herbal steam turn you dish into a unique work of art. Finish with a melting of cheese on the top. Mozzarella and Romano would be a good combo for this.
Use the brown rice mix above to stuff peppers for roasting. Top with cheese.
Use it along with jack cheese to fill chicken enchiladas. When the chicken is already flavorful, the enchiladas rise to a whole new level.
Use it in tacos. Try this chicken combination along with some minced green onion, radishes, and cilantro. Drizzle on the hot sauce of your choosing.
The above list will help you serve outstanding meals in record time. Follow this absurdly easy method for assembling your chicken strips and dried tomato. The amounts of ingredient are just suggestion. Use what you have. Be directed by your own sense of flavor and by what your family will respond to. Experiment with additional ingredients like slivered basil or minced parsley, red pepper flakes and minced cilantro, minced fresh dill, and mint along with a few raisins. There are no limits with this one.
Chicken Salad With Sun Dried Tomato Ingredients
4 cups cubed cooked chicken (white or dark meat or mixed)
3 cloves garlic, finely minced
2 tablespoons olive oil
1/2 cup dried tomatoes in oil
Salt to taste
Chicken Salad With Sun Dried Tomato Steps
Saute the garlic in the olive oil for a moment to just get the aroma going and some of the garlic oil mixed into the olive oil.
Add the chicken and toss. Remember the chicken is cooked so you don't want to walk away from the stove. Over-cooked, chicken turns hard and dry. Get the chicken to the point of sizzling hot. Any surface bacteria should be destroyed and the tomatoes will melt right in.
Drop in the dried tomatoes. Unless you have a jar you just purchased from the market, the tomato potion came out of the frig and is quite stiff. The oil is solidified from the cold. Stir in the tomatoes until all the oil is liquid and the tomatoes are evenly mixed.
Check for salt and make adjustments.
Use your chicken bravely and explore new frontiers in meal construction. Be sure to enjoy that bit of free time you just carved for yourself with this time-saver.
Related posts:
You might also enjoy: