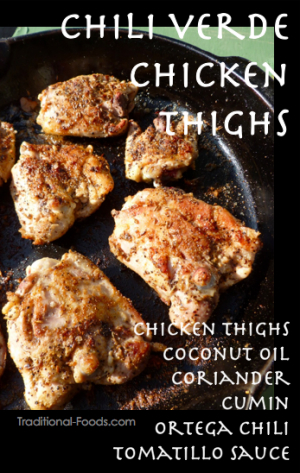 In my pursuit of great ideas for preparing dark-meat chicken, I found a really tasty slow cooker idea at The Perfect Pantry. Pantry owner, Lydia Walshin, has a knack for putting together great food in a minimum amount of time. Her recipe for green chili chicken is no exception. That said, I must confess that I got started too late to do the slow cooker. So with all the component parts ready to go, I did a stove-top-to-oven approach and let the chicken thighs roast to perfection in the oven while the brown rice pilaf and the black beans simmered merrily on the stove top.
Lydia recommends some prepared ingredients for this dish. She is speaking to college students and folks whose insane schedules preclude cooking. You may have those ingredients in your freezer or home-canned stash as I did. This recipe is a perfect use of garden tomatillo sauce and roasted pepper patties, both stock issue in my freezer.
Putting together a meal of Cuban-inspired black beans, brown rice pilaf, and chili verde chicken will keep you in the kitchen for over an hour. Make it count! Cook enough of everything to provide for two meals. Any of the three dishes reheat without loss of flavor or texture. If you only have enough chicken for one meal, double the other two dishes anyway. To have black beans and brown rice pilaf in the refrigerator puts you ahead in dinner preparation for another meal.
Rinse your soaked beans and put them on to cook before doing anything else. The beans require the most time. While the chicken browns on the stove top you can do the chopping of ingredients to use in the pilaf and bean recipes. Sauce the chicken. Pop it in the oven. Then start on the pilaf. Everything will be done about the same time.
Find our recipe for Cuban-inspired black beans and watch for our special brown rice pilaf. Below are the instructions for the chili verde chicken thighs.
Chili Verde Chicken Thighs Ingredients
2 pounds chicken thighs (about 8 thighs)
1 rounded tablespoon coconut oil or olive oil
2 tablespoons ground coriander
1 tablespoon cumin seeds
Salt and pepper to taste
About 2 cups of tomatillo sauce or green chili sauce
1 roasted pepper patty or a small can of chopped Ortega peppers
Chili Verde Chicken Thighs Steps
Remove the skin from the thighs. Wash in cold water and pat dry with a paper towel.
Heat the oil in a large heavy skillet.
Add the chicken thighs. Do not crowd.
Season the side facing up with salt, pepper, and coriander.
When the bottom sides are brown, flip the thighs over and season as in the previous step.
While the second side is browning, add the cumin seed.
Mix the tomatillo sauce and the roasted peppers in a large baking pan.
Add the chicken, coating each piece with sauce. There needs to be a single layer of chicken for even cooking.
Dish it up and call everyone to dinner. You won't have to call twice. The aroma that wafts from the kitchen on this one will have mouths watering and ready.
If you are not using my recipe for tomatillo sauce, add a half cup of finely minced cilantro to the sauce before adding the chicken.
Remember that this started out as a slow cooker proposition. Give it a try when you are really pressed for time.
Related posts:
You might also enjoy: