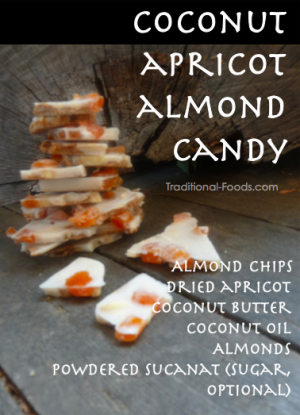 We have eaten many batches of our homemade coconut candy with chocolate and nuts and my family squawked just a bit that I would even consider a variation that involved anything other than chocolate. Somehow, this variation disappears readily nonetheless and is quite popular among the preschool set.
I actually created the almond chip recipe just for the purpose of this candy and love the added texture and flavor that it brings. The downside is that it adds extra steps and waiting time to this otherwise extremely simple candy. Achieve great flavor with almond extract instead if you do not have the time or patience to make almond chips.
This is a no-cook candy that leverages a key quality in coconut oil — it sets up hard in the freezer. Store this candy in the freezer and eat it right out of the freezer. I've served it to company but I do not put out a huge spread lest it soften up. I set out a small plate and refill it as needed.
Coconut Apricot Almond Candy Ingredients
20 dried apricots, chopped
1 cup almonds, chopped and roasted
1 cup of almond chips or 2 teaspoons of almond extract
1 cup coconut butter
1 cup coconut oil
3 tablespoons powdered sucanat or Rapadura (optional) (See instructions for making your own.)
Coconut Apricot Almond Candy Steps
Chop apricots and almonds.
Toast almonds for extra flavor.
In a mixer, blend together coconut butter and coconut oil. Mix by hand if your coconut butter is soft and easy to work with.
Powder your sucanat or Rapadura. Add to mixture. (Optional)
Grease large cookie sheet with coconut oil.
Sprinkle almond chips, apricot pieces, and almonds evenly across the cookie sheet.
Pour butter and sugar mixture evenly across the cookie sheet.
Place sheet in the freezer for at least two hours or until completely frozen.
Once frozen, use a spatula to break up and remove pieces from sheet.
Store in air tight freezer container.
Related posts:
You might also enjoy: