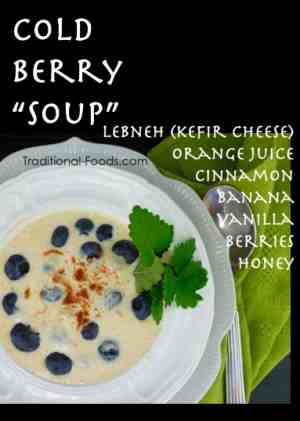 When the temperatures are up and the harvest is in, we are always looking for ways to enjoy our harvest cold and this recipe is a winner. The inspiration came from Molly Katzen's Moosewood which obviously dates me. The Moosewood books still move me to try new foods in new combinations. This soup is a good example.
While it is called soup (a chilled one), it can fill a number of functions. Consider serving it as a light dessert, a mid-afternoon snack to enjoy in the shade of a tree, or jar it up and take it on your summer travels (in a cooler of course).
I first served this treat to my grandsons prior to their taking a long walk in the mountains. Ten-year-old Frederick peppered me with questions about how I had made this. I could see he was thinking about how he could make it himself. Indeed he can. This soup is that simple.
The accompanying picture shows blueberries however you can use any sort of berry or tiny pieces of ripe fruit. The flavor of your soup depends on peak flavors in the fruit. If you use a berry that is tart, like some mountain blackberries are, then add a bit more honey when you mix the soup. As you use different fruit you will find other subtle flavor combinations such as peaches with almond flavoring or fig with lemon zest.
Berry Soup Ingredients
1 cup lebneh (kefir cheese) or 1 cup thick plain yogurt
1 cup orange juice
2 very ripe bananas
1 tablespoon honey (optional)
1 teaspoon vanilla extract
light sprinkle of cinnamon
2 cups blueberries, assorted berries, or small pieces of other ripe fruit
Berry Soup Steps
In a medium bowl mix the orange juice and lebneh, stirring until the two are evenly blended.
In a separate small bowl mash the bananas until they are a smooth goo. You might opt to use one of those small food processors for this job. You want the bananas thoroughly broken down so they become part of the thickening for the soup. They also bring the sweetness that balances off the sourness of the kefir cheese.
Mix the banana thoroughly with the lebneh-orange mixture and taste for sweetness. If the soup is too sour, add some runny honey, a tablespoon at a time. Go slowly. You do not want to over sweeten the dish.
Stir in the vanilla and cinnamon. Taste again. Make any necessary adjustments.
Place the bowl of soup in the freezer for about thirty minutes along with the bowls you will be using for serving and the berries themselves. The high chill factor is part of the charm of this recipe.
When ready to serve divide the berries up between four serving bowls. Ladle the soup over the berries and garnish with mint leaves or lemon balm. Sprinkle each with a slight bit more cinnamon and serve immediately.
Related posts:
You might also enjoy: