Here we feature two of our favorite crab stuffed pepper recipes. The first uses sweet Italian peppers and canned crab, the second combines crab and egg salad in a bell pepper.
Crab Stuffed Peppers
This is an almost instant meal if you have the component parts. We usually have homemade tartar sauce in the refrigerator. If sweet peppers are readily available, I often roast a couple pans of them. (Homemade tartar sauce and roasted pepper instructions are available.) You can quickly put these darlings together and then stash them in the refrigerator for later – or – pack and go. If you use small peppers, they make great appetizers. This recipe is so simple you will feel almost embarrassed at the number of compliments you get with it…refreshing and subtle.
Enjoy the crab stuffed bell pepper video on YouTube or watch it below.
Crab Stuffed Peppers Ingredients
Good quality canned crab
Homemade tartar sauce
Roasted peppers
Crab Stuffed Pepper Steps
An important key here is to roast the pepper only to the point of releasing fragrance, but not collapsing and loosing its shape.
Drain the crab and mix with tartar sauce. Add the sauce a bit at a time and check for flavor. You don't want to overwhelm that wonderful crab with dressing. When you find the right combo, the sauce actually enhances the taste of the crab rather than drowning it.
Fill the roasted peppers with the crab salad.
Serve cold or room temperature.
Crab Stuffed Pepper Variations
Fill with tuna salad.
Fill with salmon salad.
Crab And Egg Salad Stuffed Bell Peppers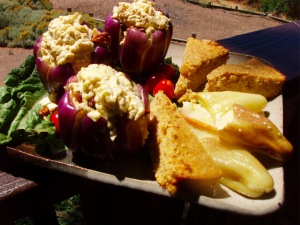 When those many colors of bell peppers are available in the summer, we are always looking for ways to use them fresh, with all that lovely color and crunch still intact. This crab stuffed bell pepper recipe does the trick, adding a high-quality protein to the pepper in the form of crab and egg salad. Pictured at right, we enjoyed these peppers with corn bread and cheese-stuffed banana peppers.
For best results, select peppers that have thick, crisp sides for these crab stuffed bell peppers.
Watch the video below on crab stuffed bell peppers, though you may notice that it is quite old and made with a poor-quality camera. You may also go old-school and simply read the instructions below.
Serves: 4
Ingredients: Crab Stuffed Bell Peppers
4 peppers
4 cups prepared egg salad
Canned crab meat
One tablespoon dry dill weed
16 pearl tomatoes
4 whole black olives
4 large romaine leaves
Steps: Crab Stuffed Bell Peppers
Clean out the peppers by cutting out the stem and pulling out the seedy white fiber from the middle of the pepper.
Using a sharp paring knife, cut down into the lobes of each pepper. The idea is to cut down far enough to have the lobes open up enough to hold more salad…and look very interesting at the same time.
Place a large leaf of romaine on each salad plate and top with a pepper.
Mix the crab and dill weed into the egg salad. Egg salad by itself would be fine, but the addition of crab makes this dish much more hearty and special.
Fill each pepper.
Finish off the salad plates with a garnish of pearl tomatoes and black olives. Sprinkle a bit more dill weed on top of the peppers. And there you have it: easy and company-worthy!

For variations on these crab-stuffed bell peppers, stuff the pepper with tuna salad or salmon salad. Put cucumber sticks, tomato slices and lemon wedges on the side for garnish. Sprinkle minced chives over the top.

Related posts:

You might also enjoy: