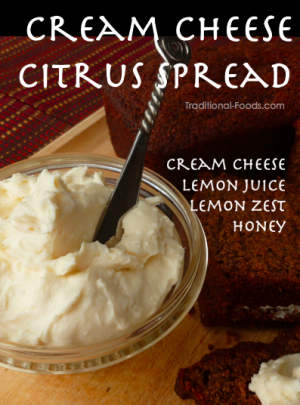 This is one of those slam-dunk easy items that can add so much sparkle to simple foods. With two or three minutes work you produce a sweetened cream cheese spread that can be used as frosting on muffins, a filling in sweet quick bread sandwiches, or a dip for fresh pear slices. Spoon a generous amount in small dessert dishes and top with fresh berries. Thin it down and pour it over slices peaches or nectarines.
You will not run out of inspiration for using this creamy goodness.
Cream Cheese Spread Ingredients
1 cup softened cream cheese
1/4 cup runny honey
1 tablespoon lemon juice
zest from 1/2 a lemon
You can substitute orange zest and orange juice for the lemon. You can substitute maple syrup for the honey. If you do use maple syrup, the cheese mixture will be thinner — almost runny.
Cream Cheese Spread Steps
Whip up the cream cheese with a fork until it is fluffy.
Blend the honey into the cheese.
Add the lemon zest and lemon juice and whip with the fork to evenly distribute the additions.
Cover the cheese mixture and refrigerate for a couple of hours to blend the flavors and allow the mixture to firm up a bit.
It is that simple!
Related posts:
You might also enjoy: