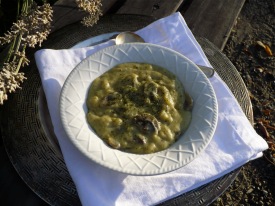 Many cultures have their favorite rendition of potato soup. Many of us grew up with potato soup as a choice comfort food. This recipe maintains the comfort aspect, adding mushrooms and rich creaminess for indulgence. There is enough indulgence in this soup to serve it to company. Make it ahead of time and simply reheat – carefully. The flavors blend and become more interesting in the next day or two after the original assembly.
(This recipe will be added to our free video course on Facebook on broth and soup-making.)
Cream of Potato Soup Ingredients
2 quarts chicken broth
6 medium russet potatoes, peeled and cubed
1 medium onion chopped
4 stalks celery, diced
2 tablespoons olive oil
2 teaspoons dill weed
1 package mushrooms, sliced
4 oz creamed cheese
2 cloves garlic, minced
1 cup whipping cream
salt and pepper
Cream of Potato Soup Steps
Cook potatoes and celery in chicken stock. Do not substitute any other stock for the chicken. This soup is a mix of delicate flavors that can be overrun by a more robust stock.
Saute onion and dill weed in olive oil until the onion is translucent.
Add onion to the soup pot, leaving some olive oil in the skillet.
Saute the minced garlic in the left-over olive oil for a moment, then add the mushrooms. Sprinkle with a tad of salt and stir frequently until done.
Place the cooked potatoes and accompanying vegetables in a blender or food processor. Add the creamed cheese and puree. If you prefer to leave the vegetables chunky, then pour a ladle or two of broth into the blender with the creamed cheese. Blend thoroughly and return to the soup pot.
Return the pureed vegetables to the soup pot and add the mushrooms.
Keep the pot at a low simmer and stir often to prevent burning.
Adjust the seasonings and ladle into soup bowls. A bit more dill weed makes a nice garnish.
This soup can be served chilled and it will have the advantage of more time for the blending of flavors. If this is your route, puree the vegetables as in #5. Thin the soup with more whipping cream, buttermilk, kefir or stock. Watered-down sour cream also makes a good thinning agent for this soup. Garnish with a fresh spring of dill and a cucumber slice.
This recipe has been shared at Sunday Night Soup Night, Meatless Monday, MMM Monday, Melt in Your Mouth Monday, Homestead Barn Hop, Make Your Own Monday, Monday Mania, Mingle Monday, Mangia Monday, Homemaker Monday, Tip Junkie, Fat Tuesday, Tuesdays at the Table, Tasty Tuesday, Tuesday Confessional, Traditional Tuesdays, Full Plate Thursday, Frugal Food Thursday, Simple Lives Thursday, Fresh Bites Friday, Freaky Friday.

Related posts:
You might also enjoy: