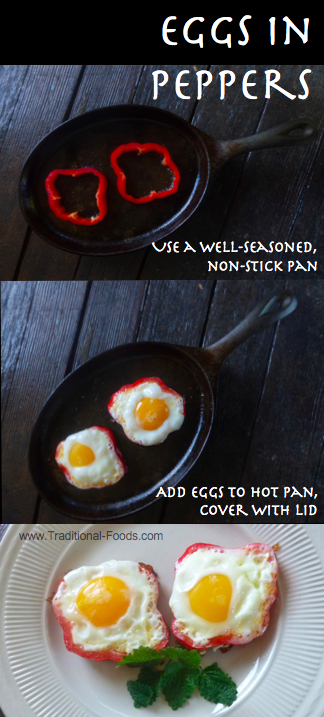 We eat a lot of eggs in this house and it certainly helps to mix things up a bit. For added flavor, nutrition, and eye appeal, I offer eggs fried in bell pepper rings. The idea flew around social media this summer and we finally got around to trying it. It's actually pretty simple.
Steps
Start with a non-stick pan, preferably a well-seasoned cast iron skillet. Warm the pan to medium high heat (or as you would with any sunnyside up egg).
Oil the pan as you would with a fried egg.
Add one bell pepper ring. Cook the ring if you want a better-cooked pepper. The color will fade a bit in the cooking.
Crack an egg into the ring.
If egg white slips under the edges of the pepper, let it cook and scrape it away at the end.
Cover the egg with a lid until the egg white is cooked through and until the yolk is cooked to your preference.
Garnish with parsley or any fresh herb available.
Related posts:
You might also enjoy: