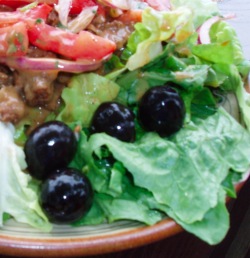 The first time I made this enchilada salad, a friend was coming to dinner. He loved Mexican food but was on a diet. There is no better way to enjoy the great flavors of enchiladas without the calories and corn than this green salad. You get the added benefit of adding more leafy greens to your diet, something we try to do. The salad was a hit and has become a regular food feature in our house. It requires taco meat and homemade enchilada sauce (though canned would be adequate), both items we make extra of and have for other meals.
Serves: 4
Ingredients: Enchilada Salad
4 cups taco meat.
4 cups enchilada sauce.
1 head of romaine lettuce, torn and ready to eat, tossed with olive oil and crushed garlic.
12 tomato wedges or 2 cups fresh tomato salsa.
12 whole black olives.
2 cups shredded jack cheese.
A handful of minced cilantro leaves.
2 avocados, cut in wedges.
1 cup sour cream.
Steps: Enchilada Salad
Reheat the taco meat if prepared ahead of time.
Arrange the lettuce on 4 plates.
Pile 1 cup of meat on each lettuce mound.
Pour enchilada sauce over the meat and lettuce. Have extra to serve on the side.
Arrange tomato, avocado, and black olives on each plate.
Sprinkle with cheese.
Top with sour cream and a sprinkle of coriander.
Related posts:
You might also enjoy: