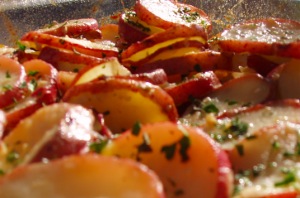 As a potato lover, let me tell you these Greek roasted potatoes are the best potatoes I have ever eaten. I adapted it from New Recipes from Moosewood Restaurant. This succulent concoction takes a while to bake, so save it for some time when you will be puttering around the house to give it its occasional stir.
Check out the video (which I am told is way too long) or follow the short and simple written directions below.
Serves: # 6
The amount I give here will serve six. I do recommend you double the amounts and have plenty left for different presentations during the week. Otherwise, your family will be whining about who finished up the last of those great potatoes.
Ingredients: Greek Roasted Potatoes
8 large red potatoes, sliced in half-inch slices
Juice of 2 lemons
½ cup olive oil
1 tablespoon salt
6 clove minced garlic
1 tablespoon minced lemon thyme or 2 tablespoons of dried oregano
3 cups hot water
Steps: Greek Roasted Potatoes
Scrub and slice potatoes. Place them in a 9×13 glass baking dish.
Mince the garlic and herbs and sprinkle over the potatoes.
Sprinkle with salt.
Pour on the oil and lemon juice.
Toss until every slice is coated with the marinade you just created.
Add the water gently by pouring down the side of the pan. Don't wash the marinade off the vegetables by pouring the water over the top.
Bake uncovered in a 450 degree oven for 1 ½ hours. Stir about every 20 minutes and add a bit of water as needed. In the last 30 minutes let the water evaporate until there is only oil left in the pan.
When you remove the pan from the oven, gently toss the potatoes to coat with the fragrant garlic oil from the bottom of the pan. Each slice will glisten as it retains its shape and texture. Sprinkle with freshly chopped parsley to serve.
Variations
Sprinkle with crumbled feta cheese and diced tomatoes. Serve on a bed of lettuce as a warm salad.
Use leftovers in composed salads.
Reheat leftovers in a skillet to serve with an egg dish for breakfast. You could heat the potatoes, break a couple of eggs on top, and put on a tight fitting lid so the eggs "poach" on the potatoes. These Greek roasted potatoes are easy and delicious!
Related posts:
You might also enjoy: