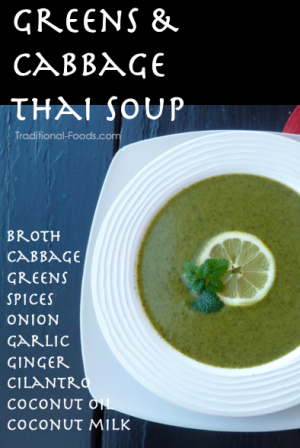 Greens soup has become a staple in our diet, so much so that we continually develop new recipes to avoid greens soup boredom. If you are going to eat healthy, densely green soups on a regular basis, you will want some variety in the flavors. Enjoy every spoonful.
Thai cooking bursts with flavor, so it's a great place to turn for inspiration. You are not likely to find this soup in a Thai restaurant but lovers of Thai food would recognize the signature Thai flavors in your lovely meal.
Use any mildly flavored green or combination of mild greens. Use what is in season, what you can forage, what is prolific in your garden, or what is available at the farmers market.
We use bone broth in our greens soups because of its richness in flavor and nutrition. You may choose to use water or vegetable broth. Either way, you end up with a steaming bowl of luscious, healthy soup.
Greens Soup Ingredients
1/2 gallon bone broth (or vegetable broth)
2 tablespoons coconut oil
1 large onion cubed
6 garlic cloves, minced
2 tablespoons minced ginger root
1 bundle cilantro (well cleaned)
1 head cabbage, chopped as you would for coleslaw
1/2 gallon tender green leaves (well cleaned)
2 teaspoons fish sauce or tamari soy sauce
1 tablespoon curry paste
2 cups rich coconut milk
2 tablespoons thickener of choice like sorghum flour or tapioca flour
Greens Soup Steps
Heat the coconut oil in your largest skillet over medium heat. The skillet needs to be sizable enough to accommodate all the vegetables that will simmer and stew.
Add the onion to the oil and saute until the onion just begins to turn translucent.
Stir in the garlic and ginger root. Continue to cook until the onions just start to caramelize.
Combine the cabbage with the onion mixture. Place on a tight-fitting lid and turn the temperature to low. Stir often. The moisture from the cabbage will probably be adequate to keep the vegetables from sticking and burning. If not, add some broth or water.
Start the bone broth warming in a large soup pot, a gallon size or larger.
When the cabbage is almost cooked to a soft stage, spread the cleaned cilantro over the top, stems and all. Replace the lid and continue to cook for another 5 minutes.
Add the tender green leaves and cook for an additional 5 to 10 minutes depending on which leaves you are using. Kale and chard need the ten. Nettle and lamb's quarters need no more than 5. You want these greens cooked through and tender.
Puree the fully cooked vegetables in a food processor or blender. Watch it! This stuff is hot. You will probably have to blend multiple batches. Scrape out each pureed batch into the hot broth.
Add the fish sauce and curry paste. Stir well and taste. Add more of either or both. Season it to suit yourself and your family.
Stir in the coconut milk and continue to simmer over a low flame while you prepare the thickener.
In a small bowl mix the thickener with a cup of water. Stir it up well and mash any lumps.
Slowly add the thickener mixture to the hot soup, stirring continually to prevent lumps. Simmer the soup for another 3-4 minutes while it thickens. If you like a thicker soup, just repeat the thickening process.
Ladle your soup into warmed bowls and garnish with slices of citrus, sprigs of cilantro, or mint and dig in!
Related posts:
You might also enjoy: