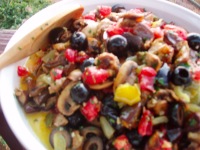 Amanda and I stopped for lunch at a small family-run Armenian restaurant. The meal was fine but what sticks in our memory was the first course — a grilled vegetable salad. The flavor of the grilled vegetables and the dressing blended perfectly. We could have made a meal on it that day. We came home and I closely duplicated the recipe (and, in fact, we have made meals on this salad at home). This is my version of that grilled vegetable salad. Bon appetit!
Serves: 6
Ingredients: Grilled Vegetable Salad
1 large eggplant cut in ½ inch cubes
½ pound mushrooms, sliced
2 large, thick fleshed sweet pepper – red or yellow bells are a good choice – cut in ½ inch cubes
2 large ripe tomatoes, peeled and cut in ½ inch cubes
6 large cloves of garlic, minced
½ cup sliced black olives
½ cup finely minced fresh parsley (flat-leafed)
½ cup olive oil
¼ cup lemon juice (a dash of red wine vinegar if you like more acid)
Salt and pepper to taste
Steps: Grilled Vegetable Salad
Wash and chop all the fresh produce and herbs.
Divide the minced garlic into three portions. One portion for the eggplant, one for the mushrooms and one for the peppers.
Keeping your three vegetables separate, toss them with garlic and olive oil.
Arrange the veggies on cookie sheets to roast in a 450 degree oven. Keep the vegetables separate, even though two may share a baking sheet. The mushrooms will finish first, the peppers second, and then the eggplant. Be sure the vegetables are only one layer deep in the pan to ensure over-all good roasting.
As the vegetables finish, pile them into a large bowl for tossing.
Add the tomatoes, parsley, black olives, lemon juice, and toss, toss, toss. You want every piece of vegetable coated with the garlic oil that was created in the roasting process.
Salt and pepper to taste.
Add lemon juice, olive oil, (and vinegar) a little at a time until your salad is dressed to your satisfaction.
Grilled Vegetable Salad Uses
Inspired from Armenian cooking in the first place, this salad is a natural fit with lamb and beef dishes. For a vegetarian option, serve it over a bed of lettuce or in a pita bread. It packs well for lunch as-is. This is a very versatile grilled vegetable salad.
Related posts:
You might also enjoy: