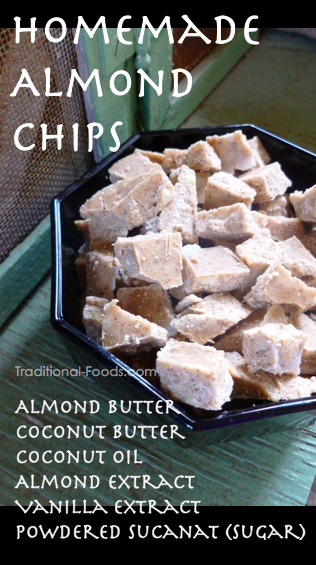 Homemade almond butter chips may seem excessive — like someone with far too much cooking time. But there may be a need some day for these little morsels and here is a recipe to get you started.
I needed the chips when I was making a candy with apricots and I wanted a strong almond flavor as well as a bit more texture and body. These worked well.
Homemade almond chips face a similar problem as homemade chocolate chips — they do not have the additives that help them keep their form. They are not made in a more complicated candy-making process. Rather, the key is to have enough coconut oil that the chips set up well in the freezer. They will hold their shape fairly well until they melt and then they will form more of a "lump" in your projects than regular chocolate chips do. The lump is quite tasty and so it is a "win" as far as I'm concerned.
This is a no-bake project that requires basic tools and a freezer. It uses whole cane sugars for extra minerals, but you can use regular powdered sugar in a pinch.
Almond Chips Ingredients
3 tablespoons almond butter
3 tablespoons coconut butter
3 tablespoons coconut oil
3 tablespoons powdered sucanat or Rapadura (or regular white powdered sugar)
1 1/2 teaspoons almond extract
1/2 teaspoon vanilla extract
Almond Chips Steps
Place butters and oil into mixer. Mix thoroughly. Hand mixing is fine if your butters are not too stiff.
Powder your sucanat or Rapadura. (See instructions here for homemade powdered sugar.)
Add sugar to butter mixer. Mix well.
Add extracts.
Taste. Add more extract, 1/4 teaspoon at a time, if you want more flavor. Add more sugar 1 tablespoon at a time for extra sweetness.
Place mixture in a 5×12 inch greased baking sheet. (Grease with coconut oil.) Place sheet in freezer for at least three hours.
When mixture is completely frozen, cut it with a knife into small squares in the pan. Pop out the squares to use in your recipes. For thinner squares, use a larger pan; for thicker squares use a smaller pan.
Place almond chips in a freezer container until they are ready to use.
This post was shared at Tip Me Tuesday, Allergy Free Wednesdays
Related posts:
You might also enjoy: