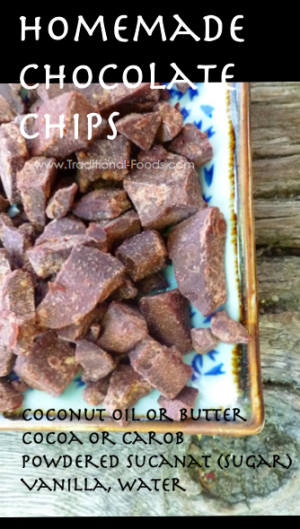 For years now I have shunned using commercial chocolate chips. My sensitive-to-chemicals taste buds raise red flags every time I get near a bag of those things. The thought of making my own little chips never crossed my mind until I saw a recipe for an ice cream (here) that contained homemade chocolate chips. It looked heavenly. If we were going to try the ice cream, we needed those chips (which you can find here).
The mixture is simple to make, especially this time of the year when the coconut oil is already in liquid form. The flavor is genuine but intense, making those commercial chocolate chips taste like a non-food (which they may be). Because of the intensity of the flavor, taste the chips before you use them. You may find yourself using small portions of these particular chips.
Homemade chocolate chips need to be stored in a cool place especially if you use coconut oil. In our kitchen the only cool places are the refrigerator and freezer. Keep your chocolate chips in a handy location — there is no end to the creative ways you will find for enjoying them.
Homemade Chocolate Chips Ingredients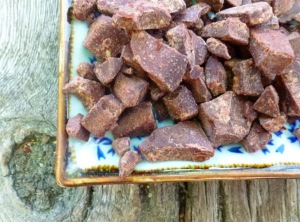 1 cup coconut oil or palm shortening
1 cup cocoa or carob powder
5 tablespoons sucanat (or other unrefined sugar) or 3 tablespoons of a liquid sweetener
A few drops of boiling water (if you are using solid sugar)
2 teaspoon vanilla
Homemade Chocolate Chips Steps
Melt the coconut oil over low heat. You want the oil to be as cool as possible and still become liquid. If it gets too hot, the oil will not permanently combine with the cocoa.
Mix in the cocoa powder.
In a separate small bowl blend the sugar with the vanilla and stir to dissolve the sugar. Add a few drops of boiling water if necessary, a drop or two at a time.
Stir the sugar mixture into the oil and cocoa mix.
Pour the chocolate sauce onto a cookie sheet and place in the freezer to harden. If you want thicker pieces of chocolate, pour the sauce into an 8×13 baking pan or an 8×8. Personally I like the thinner chips because the flavor is so intense that it is easy to overwhelm the flavors of other ingredients.
After the chocolate has hardened into a solid sheet use a heavy spatula to lift it from the pan and help to break it into pieces.
Place in a storage container and store in your refrigerator or freezer.
If you end up with chocolate pieces that are too thick, put the chips into a freezer bag, freeze them for another hour, and then hammer them into smaller pieces.
Related posts:
You might also enjoy: