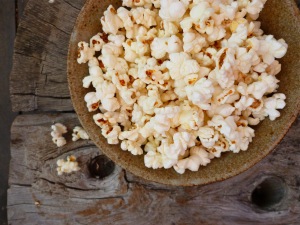 Inspired by the news that popcorn is loaded with antioxidants and, really, inspired by popcorn itself, we have been on a quest to make exquisite popcorn.
My requirements are that the popcorn taste great and that it not lead to slow death with the added ingredients or with the cooking process itself.
In conducting many home kitchen experiments (and the required extensive sampling), I will say that the stove top is by far the tastiest path to popcorn because the corn actually pops in oil. Popcorn cookery that pops the corn in oil will certainly work as well. An air popper with butter added later will never achieve the flavor you can get if you pop your popcorn in oil.
Cooking popcorn in oil on the stove top brings an immediate dilemma: What oil has the heat stability to pop your corn and not oxidize at the same time?
Here the requirement that the corn not lead to slow death becomes relevant. All of our bodies face heavy oxidation loads and the last thing we need is to add more oxidative stress in the form of stove top popcorn, cooked in oil inappropriate for the popping temperature.
The Popping Temperature
All of this begs the question: What temperature does a popcorn kernel need to pop?
One peer review study on popcorn suggests that the internal temperature must reach 350 degrees. NASA reports here that it must reach 450 degrees. One reason for this difference of 100 degrees could simply be that the oil itself must be hotter than 350 if the internal temperature of the popcorn kernel is going to hit 350 degrees anytime soon.
Whatever the ideal popping temperature is, if the popcorn does not get hot enough, much of your corn will not pop — temperature definitely matters for good popcorn. According to these sources, we can expect decent popping rates somewhere between 350 and 450 degrees. I find in my kitchen that NASA's number may be closer to the ideal popping temperature needed in the oil itself.
If you are into oils you already see the dilemma: Most oils reach their smoke point below 400 degrees and are probably off the list immediately.
Hoping that was not the case, I popped a few rounds of popcorn in butter and coconut oil trying to keep careful control of the stove top temperature. The flavor would be divine, so it was worth a shot. I found it difficult to pop anything without smoking up my kitchen. It is a pity indeed.
I moved on to a more heat-stable oil next testing palm shortening. In terms of smoking, palm shortening was far better than butter and coconut oil for popcorn but I still had to watch it very carefully to keep it from smoking and I still was not all that successful. Many of the kernels did not pop.
Palm shortening has a smoke point of 425 degrees and it was still difficult to get a smoke-free popcorn cooking up in the kitchen. As I said, the NASA report of 450 degrees fits my own kitchen experience. I looked for oil with an even higher smoke point and I found safflower oil.
With safflower oil, I did not have to fuss as much with the temperature of my pan (though I was still careful). I had far more kernels actually pop.
Excellent.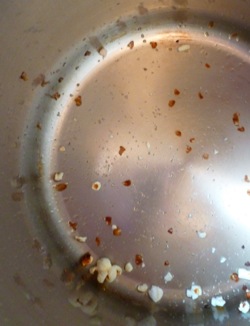 Compare the performance in your own kitchen: An oil stressed at its smoke point will obviously smoke but as it reaches that point, a sensitive nose will catch a change in the odor coming off the pan. After the popcorn is popped, you may also see slight yellowing in the oil residue that remains. If your oil smokes and if it burns slightly and sticks to your pan, you are eating food that is adding to your oxidative load.
I was pleased using safflower oil that my pan came out clean after popping the corn, as pictured here. It took no effort to wash it.
Safflower Oil
Safflower oil turns out to be a decent choice for any high-heat cooking such as roasting. I now keep it in my pantry as a stock item. Unlike many vegetable oils, it is actually a monsaturated oil like olive oil, but it has a smoke point of over 500 degrees. It is low in Omega 6 fatty acids (less than 13%), a fat we do try to avoid. (Find its nutrient profile at the USDA.) It compares well to other popular oils on the market for both the smoke point and the fat profile itself.
(Note from the comments below that I am suggesting a high monosaturated fat oil. There is another safflower oil high in polyunsaturated fats that is causing confusion with this one. You can be sure you have the right one if the label says it is a "high oleic" oil — and most of what you'll find in the market is this better type.)
Butter
Of course, you will want to add melted butter to your finished popcorn. Do not use butter substitutes — they tend to be high in Omega 6 fatty acids, implicated in heart disease, depression, and diabetes. Saturated fat from butter balanced by fresh produce and whole grains is part of a healthy diet. Conveniently, popcorn is a whole grain.

I have it from a reliable source that in heaven the smoke point of butter is 500 degrees and we will cook our heavenly popcorn in butter. Here on earth, butter smokes at about 350 degrees requiring that we add it after popping.
Genetically Modified Popcorn or Safflower Oil?
In your shopping, rest assured that there is no genetically modified (GM) popcorn or safflower oil on the market. Keep your eyes open of safflower oil because it is becoming an increasingly popular substitute in commercial baking.
Stove Top Popcorn Recipe
To indulge in exquisitely flavored popcorn in your own house, this is the basic process we follow.
Ingredients
2 tablespoons safflower oil
1/2 cup popcorn
3 tablespoons butter
Salt to taste
Steps
Using a sauce pan or small soup pot, cover the bottom of the pot in safflower oil (about two tablespoons).
Add 3 popcorn kernels and place a lid on the pot.
Turn your burner on high for a moment and then turn down to medium high.
In the meantime, slowly melt your butter in a separate pan.
When your popcorn kernels have popped, your oil has reached popping temperature. Add more kernels to fill the bottom of the pot in a single layer (about a half cup).
Place the lid on the pot.
When the kernels start popping, lift the covered pot off the flame and shake it.
Place the pot on the flame for a few seconds and then shake again.
When the popping slows, turn off the flame to reduce the heat and avoid burning kernels.
As popping stops, remove the lid and pour the popcorn into a large bowl.
Drizzle butter over the popcorn and stir well.
Salt and stir. Taste for salt and butter and make adjustments.
Related posts:
You might also enjoy: