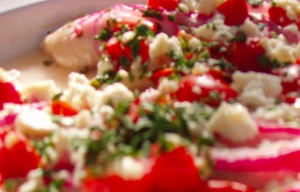 If you have wondered how to bake tilapia, this recipe is a great start. Delicate white fish like tilapia is wonderfully lacking in that "fishy" scent and flavor, but it becomes pretty boring if not well prepared and seasoned. Tilapia fillets are a blank slate waiting to be written upon. In this selection you have traditional Greek ingredients that make this baked tilapia dish a great go-together with roasted Greek potatoes. If you warm up leftover Greek potatoes to go with this baked tilapia, you will have an almost instant meal.
Serves: 4
Baked Tilapia Ingredients
2 pounds of tilapia fillets (or other white fish)
1 medium red onion, thinly sliced in rounds
1 teaspoon dried dill weed or 1 tablespoon of minced fresh dill weed
1 tablespoon minced fresh parsley
Juice of one lemon
1 medium tomato, peeled and chopped
½ cup crumbled feta cheese
Baked Tilapia Steps
Wash and pat the tilapia dry.
Place the tilapia in an oiled baking dish. Choose a baking dish that will look nice on the table because this is a lovely dish to serve.
Place red onions on the top of fish.
Sprinkle with lemon juice, dill, and parsley.
Arrange the tomatoes and crumbled feta on top.
Bake until the tilapia flakes: 350 degrees, about 30 minutes depending on the thickness of the tilapia.
Test for salt and pepper. Remember that the feta is quite salty.
Baked Tilapia Variations
Replace the dill with freshly minced oregano and sprinkle on sliced black olives.
Keep the chopped tomato to the side. Dress it with olive oil, salt, and crushed garlic. Spoon it on the fish after cooking.


Related posts:

You might also enjoy: