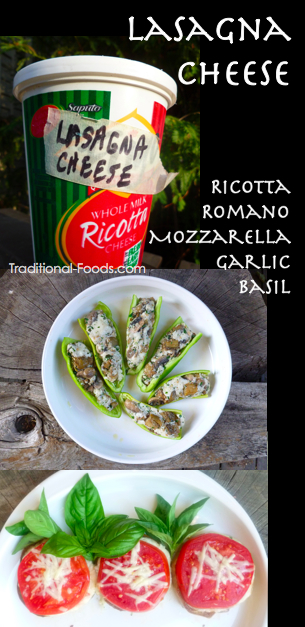 Having a stash of pre-mixed lasagna cheese in the freezer did not start out by design, but it worked its way into being a design. Back in the old days of cooking for 30-40 people, I made lots of lasagna. Usually there would be more of the cheese mix than needed. There was usually more because I hate lasagna with skimpy fillings and I always over-estimated. This was the birth of lasagna cheese for the freezer. It is one of my favorite ways of appearing to be an instant gourmet cook.
The label "lasagna cheese" has stuck even though I use it for a variety of dishes in no way related to lasagna. Keep this mix around and you will be inventing ways to use this tasty combo, too.
When ricotta cheese goes on sale pick up more than one container so you can put up a real stash of this mix. The ideal, of course, is to be able to get the ricotta and the mozzarella on sale at the same time. Occasionally that happens.
I have kept the cheese mix in the freezer for as long as a year without losing quality. You really can put up a number of pounds of this goodness and have it for months to come.
This is just so easy, I blush to call it a recipe. It is more a process than a recipe.
Lasagna Cheese Ingredients
1 part ricotta cheese
1 part shredded mozzarella cheese
1/2 part shredded Romano cheese (or Parmesan)
Garlic, freshly minced or granulated, to taste (You have to work this one out for yourself. I tend to use one clove of garlic per cup of the cheese mix.)
Basil, freshly minced or dried and crushed – about 1 tablespoon per cup of cheese mix.
Lasagna Cheese Steps
Mix the cheeses to a uniformity in a large bowl.
Add the garlic and basil and mix some more. You want these seasonings to be thoroughly distributed through the cheese. Over time the flavors blend beautifully.
Use the cheese mix fresh in whatever recipe you are working on and freeze the rest.
Freeze in containers pertinent to how you will use the cheese mix in the future. If you know you will need three cups of the mix for Eggplant with Three Cheeses, then freeze some three-cup portions. Mark the containers with the amounts so you have no problem locating the right package later.
To thaw the lasagna cheese, move it from the freezer to the refrigerator a couple of days before needed. If you don't plan that far ahead, leaving it at room temperature for a few hours will do the trick, depending on how large a measure you have frozen.
You can put on your creative hat and have fun with this great ingredient. Here are a few ideas to get started:
Stuffed Peppers
Layers of casseroles like Boureki
Filling for calzone
Related posts:
You might also enjoy: