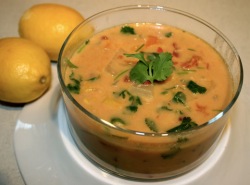 This soup recipe comes from Jessica Espinoza, author of the Delicious Obsessions blog. Jessica offers a collection of inspired recipes and is currently working through a 52-week series on probiotic foods. (Find her "52 Weeks of Bad A** Bacteria" in progress with ginger carrots.)
In honor of our coconut focus on this site the last couple of weeks, I asked Jessica if she would share her recipe for Coconut Lentil Soup which makes great use of coconut milk. Jessica lives at a high elevation and her cooking times will be much longer than yours, especially if you are at or below sea level. This factor applies in all recipes but can be particularly noticeable with beans. Adjust accordingly.
From Jessica:
I love adding coconut milk to soups and this lentil soup is no different. The creaminess of the coconut mixed with the ginger and chili flakes yields the perfect combination. The lentils, which are high in protein, fiber, and B vitamins, create a dish that is hearty enough for lunch or dinner. If you use homemade chicken stock, then this dish is as nourishing as it is filling. Use whatever color lentil you want. Lentils come in four colors – white, green, red, and black.
Coconut Lentil Soup Ingredients
1 1/2 cups lentils, soaked
1 quart chicken stock (homemade if possible)
1 can coconut milk
2 tablespoon coconut oil
1 large sweet onion, chopped
1 tablespoon garlic crushed
1-3 tablespoon fresh ginger, minced
1/2 teaspoon – 1 tbsp. crushed red chili flakes
1 teaspoon cumin
1 teaspoon coriander
1/4 teaspoon sea salt
1 organic yellow pepper, chopped
1 organic orange pepper, chopped
1 organic red pepper, chopped
4 cups diced tomatoes
1 cup tomato juice/sauce
1 lemon, juiced
1 bunch cilantro, chopped
Coconut Lentil Soup Steps
Soak the lentils the night before in warm water.
Pour off soaking water, rinse lentils, place lentils in pot, cover with water (with three inches of extra water).
Bring lentils to a boil and cook for 30 minutes. Skim foam that rises to the top.
Pour off water and rinse again. (The series of rinsing will help with digestibility.)
Return lentils to stock pot and add chicken stock, coconut milk, coconut oil, onion, and spices.
Bring to a simmer, reduce heat and simmer for one hour, stirring occasionally.
Add peppers and tomatoes.
Taste for salt and other seasoning.
Cover and let lentils simmer until they reach your desired tenderness (the time will depend on your altitude and the age of the lentils — older lentils will take longer to cook).
Once the lentils are tender, remove from heat and stir in 3/4 of the bunch of chopped cilantro and lemon juice.
Use the remaining cilantro as a garnish when serving.
Related posts:
You might also enjoy: