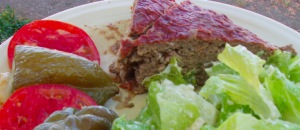 Back in graduate school I remember "wowing" a sick faculty member with a homemade meat loaf. Not only was it shocking that a graduate student cooked, the meat loaf was the best she had ever tasted. I am sure it was part luck at the time — I have learned so much about cooking in the twenty years since then (*tick tock*).
My mom gets raves on her meat loaf too. Check it out and see what you can glean. Read the recipe itself below.
From Mom:
Some of the best flavors come from being creative and taking chances. That's how this meat loaf came about. I put together a variety of leftovers from one meal preparation and added them to three pounds of hamburger from grass-fed beef. The moist and flavor-filled additions keep the meat moist and holding together. The dill flavor is unique, distinct, and satisfying.
Serves 6, generously
Meat Loaf Ingredients
3 pounds ground beef
1 large onion finely minced
2 large tomatoes peeled and finely minced
1/2 cup finely minced flat leafed parsley
2 large dill pickled finely minced
1 teaspoon dill weed
3 eggs
1 tablespoon salt (or Montreal Steak Seasoning)
2 teaspoons black pepper
A good quality ketchup
Meat Loaf Steps
Place meat in a large mixing bowl and break it up into small pieces.
Add all the ingredients except the ketchup.
Mix well. This is best done with your hands, which are well scrubbed, of course. Work the mixture together until it actually begins to stick together. There is a decided change in consistency at this point. If you stop short in the mixing process, the meatloaf will not hold together or slice well after baking. It will look more like scrambled hamburger. I like serving slices. How about you?
Place the meat into a baking dish and shape it into a loaf. I usually use a glass pie plate for this.
Smear the top of the loaf with ketchup. It makes an attractive glaze and adds a rich tomato flavor to the finished product.
Bake about an hour in a 350 degree oven. Cut out a tiny core to check to be sure it is done.
Meat loaf is high in iron but beef is also high in B vitamins, both nutrients that can aggravate your depression if you are deficient in them. Meat loaf, then, is one of the great foods for depression and iron rich foods. Sauerkraut makes a great side dish too.
Related posts:
You might also enjoy: