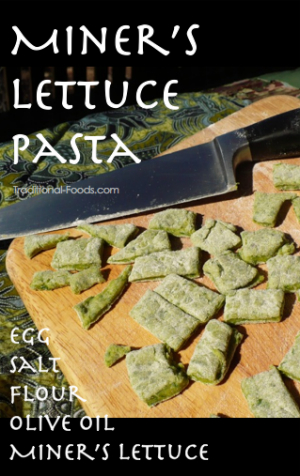 I found this fascinating recipe in the The Greens Cookbook by Deborah Madison and Edward Espe Brown — a pasta dish that showcases cauliflower and broccoli. Fully planning to use a boxed pasta to try it out, I started gathering my tools and thinking through the recipe.
As I mulled over this recipe I knew that fresh pasta was essential. The closest I've come to making any sort of pasta is gnocchi – not exactly the same thing. But I decided to take the plunge. Lunch would be later than planned. Fresh pasta dough needs to rest for at least an hour before it is cut and cooked.
I figure if I am going to make my own pasta, I don't want to settle for a plain and ordinary pasta. I followed a recipe in The Greens Cookbook for an herb pasta. Instead of herbs, I used chopped miner's lettuce, also known as claytonia. It grows wild in our area. In particular, it grows on the path to my clothesline and it is just big enough to begin harvesting. There is white flour in the recipe as you will see, but considering it got my picky grandson to eat something green, I consider it a win.
The pasta making was so simple I will be doing more of it, playing, experimenting, and having great fun. I used a four-cup food processor to do most of the work. I'm still shaking my head. Why have I not done this sooner?
The color of this pasta is bright green but the flavor is not. Minor's lettuce is very mild, similar to chickweed. It is an easy one for introducing your family to pasta that does not fall into the "plain and ordinary" category.
Miner's Lettuce Pasta Ingredients
1 cup loosely packed chopped miner's lettuce
1 cup all purpose flour
1/4 teaspoon sea salt
2 small eggs or 1 large egg
1 teaspoon olive oil
Miner's Lettuce Pasta Steps
Place the miner's lettuce, flour and salt in a four-cup food processor. Blend for about ten seconds.
Add the egg and oil. Blend for several more seconds. The dough may well ball up in the processor.
Remove the dough to a floured surface and knead the dough until it is smooth and satin-like. If the dough is sticky, knead in more flour just a bit at a time until the dough is easy to handle. If it is too dry, add a few drops of water.
Cover the dough with plastic wrap and set it aside to rest for at least one hour.
Roll out the dough on a floured surface and cut into the shapes you want. I did small rectangles that I thought would look good with the cauliflower and broccoli dish I was making.
Cook the noodles in plenty of boiling salted water. They only take a minute or two. At first they sink to the bottom of the pot. Stir gently to keep them from sticking to each other. As they reach the cooked stage, they rise to the surface. This happens fast. Don't walk away from the stove. To check for doneness, fish out one of the noodles, cut it in half and taste. They are firm, but chewy, when done.
Related posts:
You might also enjoy: