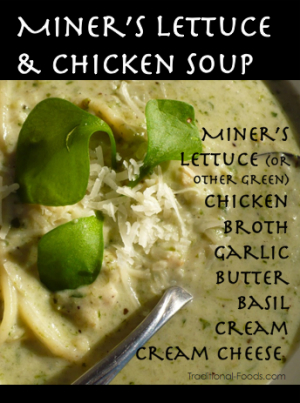 This is an extravagant soup: rich and creamy, high calorie, and utterly delicious. Miner's lettuce came early this year and kept calling to me in the kitchen. I had some great makings on hand so this dish came together in a jiff. The real key is a rich chicken bone broth. It was exceptional by itself. When you start a soup with a fine broth base, your chances of success are really good. (We use broth from our "first run broth" of chicken bones which only means that if we then stew the bones again for more broth, we use that "second run broth" for projects that do not need a rich broth. Check out our methods on our bone broth page.)
We had an exception broth base and I wanted to work in as much miner's lettuce as possible because of it high nutritive value. Having a young one in the house who thinks green food is only for chickens, I had to be sneaky. Whipping cream, a bit of creamed cheese, and a blender took care of that problem. Miner's lettuce is sweet and delicate which makes it easy to hide. Mr. Picky ate two bowls of soup and never said a word about the soup being somewhat green.
If you happen to have leftovers, warm them slowly and stir often to prevent them from burning.
Miner's Lettuce Soup Ingredients
2 quarts hot rich chicken broth
4 cups loosely piled miner's lettuce, cleaned
1/2 cup cream cheese
2 cups leftover cooked chicken pieces
3 cloves minced garlic
2 tablespoon butter
1 heaping teaspoon dried basil
2 cups leftover cooked pasta (optional)
3 tablespoon flour (optional)
1 1/2 cup whipping cream
Salt and pepper to taste
Grated Romano cheese and sprigs of miner's lettuce for garnish
Miner's Lettuce Soup Steps
Pour 2 cups of the broth into a soup pot and bring to a boil.
Press the miner's lettuce into the boiling stock and cook for one minute.
Pour the stock and miner's lettuce into a blender along with the creamed cheese. Puree until smooth. Set aside.
Add the butter to the soup pot which should be dry by now. Melt the butter over medium heat and add the garlic.
When the garlic starts to sizzle, add the chicken bits and basil. Stir to coat the chicken with butter.
Cook until the meat is warm, about 4 minutes. If you do not have leftover chicken, cut a skinless, boneless chicken breast into tiny pieces, salt and pepper it, and cook until thoroughly done, about 6-7 minutes. Stir often.
Add the rest of the hot broth and the mixture from the blender. Add leftover pasta if you so desire. Stir well to blend all ingredients. Use medium heat.
Mix the flour with the whipping cream. Stir or shake to break up any lumps.
Slowly pour the cream/flour mixture into the soup, stirring the whole time and maintaining medium heat.
If after 3 or 4 minutes of heating, the soup is not as thick as you would like it, add a bit more flour mixed with water, or broth if you have it.
Turn off the heat. Do not overcook this soup once all the ingredients are in the pot.
Taste for salt and pepper and make adjustments.
Ladle into bowls and garnish.
A crusty sourdough with a smear of butter and slices of tree-ripen orange is all you need to make this a memorable cold weather meal.
Related posts:
You might also enjoy: