My life changed this week when my youngest son entered preschool. He was age-ready last year but I kept him home, clinging like a mother bear, after a flu season of febrile seizures the previous year. This child is my "second chance" child after severe depression with my first (read the story here) and so I might have clung just a bit more as a result.
It's terrible to end up with a seizure when you have a basic fever. We actually kept him quarantined two falls ago as doctors determined that his seizures were not life threatening. My own uncle is severely handicapped from childhood seizures which got my son a ticket to the Children's Hospital. It was a long winter, needless to say, as I clung like a mother bear. Preschool is a great relief.
With my extra hours I thought I'd snap a few photos of his lunches. He's easy to feed.
His first school lunch was a basic sandwich made on whole grain squash rolls. We keep a few of the rolls in the freezer to defrost for just such occasions. It is a great sandwich bread. Find the recipe for squash rolls here.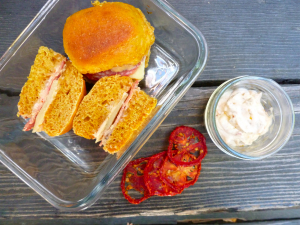 Instead of a plain mayonnaise spread, I used a sun dried tomato and roasted red pepper dressing (here), a thick and flavorful dressing that actually added vegetables to a preschool sandwich in an interesting way.
The sandwich included a slice of a high-quality cheese (the popular Dubliner cheese from Ireland) and a slice piece of salami for added interest.
I included some of the tomato and pepper dressing on the side as a dip. He loves sour cream-based foods and with the vegetables in it, this seemed like a winner. This dip is actually fantastic with actual sun dried tomatoes to dip in. I packed a few dried tomatoes as well.
Related posts:
You might also enjoy: