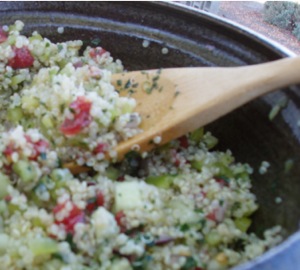 Traditionally tabouli is made with bulgur. Use quinoa as a substitute and most folks will not even notice. In doing so, you will have increased the protein and lowered the gluten in this refreshing Middle Eastern salad. This recipe also makes use of prolific summer garden produce — a slight tweak on tradition. (Read our quinoa profile for ore information about quinoa.)
View this quinoa tabouli recipe on YouTube or below.

Quinoa Tabouli Ingredients
4 cups cooked quinoa
2 ripe tomatoes in small dice
1/2 red onion finely diced
1 cucumber, peeled and diced
1 sweet pepper, any color, diced
2 cups (packed) finely chopped flat leaf parsley
1/4 cup finely chopped mint
1 large lemon or 2 small lemons, juiced
3/4 cups extra virgin olive oil
salt to taste
Quinoa Tabouli Steps
Pile the quinoa in a large bowl and allow to cool almost to room temperature. If you put the fresh veggies into hot quinoa they will partially cook and you will loose some of the crunch that makes this salad memorable.
Add all the chopped vegetables and herbs and toss to mix.
Mix the lemon juice and olive oil in a cup then sprinkle the mixture over the salad.
Toss to coat all of the vegetables and the quinoa.
Salt to taste.
If the salad seems too dry, add another drizzle of olive oil and toss.
Put this salad together an hour before serving if you can. This gives the flavors a chance to blend.
Serve at room temperature.
Refrigerate your left-overs which will keep nicely for about three days. Bring your quinoa tabouli back to room temperature for serving.
Related posts:
You might also enjoy: