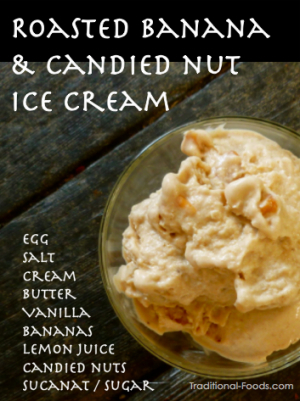 Frederick and I are embarking on an ice cream adventure. Every week that he has done his chores without being asked, we make ice cream. Being a former (former?) educator, I approach all activity as time to explore and discover. Ice cream making is no exception to my rule.
Frederick: "You can COOK a banana?"
Me: "Yes, just pull your stool closer to the stove so you can stir these bananas and keep them from burning."
I gave Frederick a couple of options as to what we would add to the ice cream. We ended up making candied nuts because he was so fascinated with the idea that sugar can melt in a skillet.
Besides the wonder of watching this happen, Frederick got to listen to the story of how badly his mother got burned on just such an operation when she was his age. Amanda was at a friend's home. She and her buddy were cooking without supervision.
Lesson: "Frederick, this is blazing hot and you never try it by yourself!"
While some of the roasted banana recipes out there call for oven-roasting, we opted for roasting the banana slices on the stovetop so Frederick could be more hands-on. Feel free to use your oven!
The final product was rich and satisfying. Frederick excitedly served bowls of ice cream to the family. His first ice cream! What a delicious reminder to get your chores done!
Roasted Banana Ice Cream Ingredients
2 very ripe bananas
2 teaspoons butter
2 cups heavy cream
1/2 cup sucanat (or sugar of your choice)
1 egg
2 teaspoons freshly squeezed lemon juice
2 teaspoons vanilla
1/4 teaspoon sea salt
Candied nuts
Roasted Banana Ice Cream Steps
Melt the butter in a small heavy skillet.
Peel and slice the ripe bananas. Toss the slices into the butter and cook. Five minutes will take care of this. Stir often. Better yet, stand there and continue stirring to prevent a burn. Enjoy the aroma. Heavenly!
Pour the cream and sugar into a blender. Add the egg only if you are certain of its freshness. We used one still warm from the nest.
Add the rest of the ingredients other than the nuts. Blend well. You want the banana to to unrecognizable. This ensures a thorough blending of the roasted banana flavor through the ice cream.
Pour the ice cream mixture into a container that will sit in the freezer for a couple of hours. Stir the mix now and then.
Process the ice cream according to manufacturer's instructions for your ice cream maker.
When the ice cream is finished, fold in the candied nuts.
Serve immediately as soft-serve or return the ice cream to the freezer for a few hours. Use the same container you did before to save washing an extra item.

Related posts:

You might also enjoy: