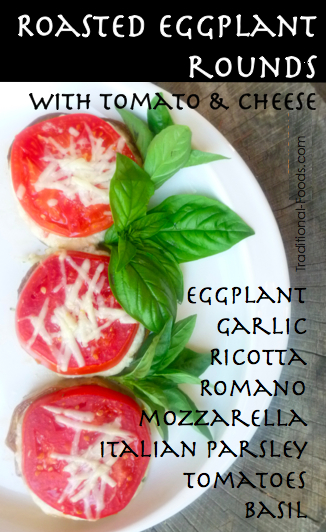 Inspiration for this came from having a quantity of my lasagna cheese mixture leftover. This mix is wonderful all by itself, but who wants to eat a pile of cheese? Summer was coming to an end with its usual bounty. Enter eggplant and tomatoes! This entree went over so well that I planned it into the next year's garden so as to have plenty of component parts for the freezer. Directions in the recipe below describe roasting eggplant. You could substitute the breaded eggplant found in another of our recipes for a special treat.
Roasted Eggplant Ingredients
2 large eggplants in 1/2 inch rounds
3 cloves garlic, minced
4 tablespoon high-heat oil of choice
4 cups ricotta cheese
4 cups grated mozzarella cheese
3 cups freshly grated Romano or Parmesan cheese, with one cup set aside
2 tablespoons minced fresh Italian flat-leafed parsley
5 tablespoons minced fresh basil
3-5 large garden tomatoes sliced into thin rounds, one round for each round of eggplant
Roasted Eggplant Steps
Preheat the oven to 450 degrees.
Brush the eggplant with the oil and place on a cookie sheet with sides.
Roast for 15 minutes and then turn the rounds over. Sprinkle with garlic and roast for another 15 minutes.
While the eggplant roasts, mix the cheeses, except for 1 cup of the Romano/Parmesan. Add the parsley and basil. Mix well.
Remove tray of roasted eggplant to a safe working spot. Divide the cheese mixture among the eggplant rounds. Using the back of a spoon, spread the cheese mix as best you can to the edges of the eggplant.
Press a tomato slice into the cheese on each eggplant round.
Sprinkle the remaining Romano/Parmesan on the tomato slices.
Put the tray back in the oven or under the broiler to melt the cheeses to a bubbly point. Watch for burning. This is too precious a dish to lose it now!
Serve immediately with a cold, crisp salad or simply wedges of Japanese cucumber.
Freezer Food: Roasted Eggplant Rounds with Italian Cheeses
To have enjoy this dish all winter long, try this method for freezing the ingredients:
Roast and freeze the eggplant rounds. They can be frozen in a single layer on the cookie sheets, then stacked in freezer bags for easy handling.
Slice and freeze tomatoes that fit the size of your eggplant rounds. Follow the same freezing procedure as for the eggplant.
The cheese mix freezes well. You can make up a mountain of it then freeze in amounts needed for a meal. You will have to thaw out the cheese ahead of time.
The tomatoes and eggplant stay frozen until you are ready for assembly.
Assemble as described above.
Cook in a 350 degree oven until all is hot and sizzling, about 50 minutes.
Finish under the broiler for a bubbly and crusty cheese. Your kitchen will smell like summer garden wonderful.
Related posts:
You might also enjoy: