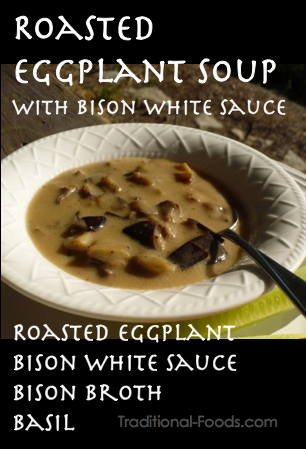 This soup makes use of our bison white sauce, a sauce made with cream and bison fat. The bison fat came from exquisitely high-quality bison soup bones available online here and gives this soup an unforgettably rich flavor. This soup may be the best that has come out of this kitchen, largely due to the flavor and richness in the bison fat. Learn more about how to make this versatile bison white sauce.
This recipe also calls for oven roasted eggplant — the roasting process brings out the flavor of the eggplant itself and helps it hold together in the soup. However, the rich flavor of this soup would blend well many of your favorite vegetables. Enjoy your experimentation. Check out the video below or view this roasted eggplant soup video on YouTube.
Roasted Eggplant Soup Ingredients
1 quart of bison white sauce (see recipe)
2 cups of bison broth
2 1/2 cups of cubed roasted eggplant (see recipe)
1 1/2 cups cubed and cooked bison soup meat
Fresh basil for garnish
Salt and pepper to taste
Roasted Eggplant Soup Steps
Reheat the white sauce to a simmer.
Add broth slowly to bring white sauce mixture to a creamed soup consistency. You may not use all of the broth.
When your soup comes to a simmer, add meat. Warm for two minutes.
Add eggplant. Warm for two more minutes.
Adjust for salt and pepper.
Ladel into soup bowls. Garnish with fresh basil.
Roasted Eggplant Soup Variations
Go meatless. The richness of the broth and eggplant stand well on their own.
Garnish with freshly grated Parmesan cheese.
Enjoy your roasted eggplant soup!
Related posts:
You might also enjoy: