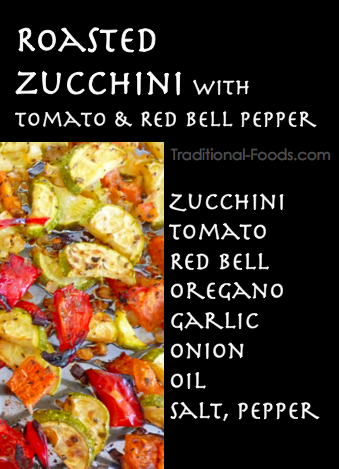 As long as your air temperatures are not in the sweltering range, this is a quick and simple dish to put together. The quick part is the assembly. The longer part is the roasting, but the oven does that job for you.
A practice I highly recommend is to keep containers of chopped onion and minced garlic in the refrigerator. If you follow that advice, this dish will go together and be popped in the oven in under ten minutes. Considering the rich satisfying flavors you will pull out of the oven at the end of the roasting process, this is hardly believable. You expect to work harder to get such a stunning dish.
The absolute best scenario is to make this recipe with garden-fresh produce. That's always the best, but even not-so-fresh produce will yield tasty results.
Roasted Zucchini Ingredients
Young zucchini sliced in half moons, about 4 cups
1/2 onion, diced
2 large cloves garlic, minced
1/2 large red bell pepper, cubed
1 large tomato peeled and cubed
2 tablespoons high heat oil of your choice
1/2 teaspoon sea salt
1/2 teaspoon freshly ground black pepper
1/2 teaspoon red pepper flakes
1/4 teaspoon dried oregano or 1 teaspoon freshly minced oregano
Roasted Zucchini Steps
Preheat the oven to 450 degrees.
While the oven heats, prepare your vegetables. You can pile them in the baking dish you plan to use. I use a 9×13 inch glass baking dish.
Sprinkle the vegetables with salt, pepper, red pepper flakes, oregano, and oil. Toss it all together. Your hands work well for this job. You want the vegetables to be completely coated in oil and you want the seasonings to be well distributed. If you like heat, add a couple of whole jalapeno peppers.
Spread the vegetables evenly over the bottom of the pan. The idea is to not overload the pan. A thin layer of veggies will roast. A thick layer will stew. The flavor of this dish comes from roasting.
Place the pan in the 450 degree oven. The roasted flavor comes from the high heat. Your vegetables will be cooked within 20 minutes, but you will be happier with them to let them roast to the point of just beginning to brown. The veggies taste sweeter and more developed at this point.
Serve the roasted zucchini and tomato as it is, or drizzle on some extra virgin olive oil, or melt a thin layer of cheese over the top. In our house, everything tastes better with a bit of cheese.
This dish is wonderful beside grilled beef or on top of brown rice pilaf or quinoa pilaf. Try opening up a hot baked potato, pile a helping of roasted zucchini and tomato on top. Drizzle with olive oil and top with grated cheese. Put the potatoes in a hot oven or under the broiler to melt the cheese. You have a whole meal and a satisfying one at that.
Related posts:
You might also enjoy: