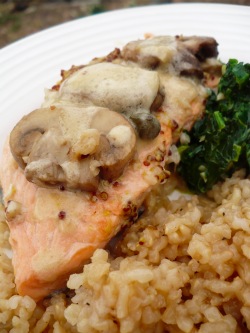 Adrienne grew up in her parents' Italian restaurant. Both parents and restaurant are gone now, but they left a rich deposit of cooking savvy in Adrienne. I love hanging out in her kitchen to see how she handles food. This salmon dish is a slight adaptation of what Adrienne does.
Salmon with Capers and Cream Ingredients
Two pounds of salmon filets
1/2 pound mushrooms, sliced
Five cloves garlic
Four tablespoons olive oil
Two tablespoons mustard
Dash of salt
Dash of dill weed
1/2 cup dry red wine
2-3 tablespoons of capers (optional)
2 cups of heavy cream (optional)
Salmon with Capers and Cream Steps
Wash and slice mushrooms.
Mince five cloves of garlic. Use more or less garlic according to your taste. With salmon, it is hard to overdo the garlic.
Wash and pat dry two pounds worth of salmon filets. The washing is important because often the water content around and on the filet is beginning to smell much stronger that the filet itself. Patting dry is important because water on the fish will dilute the flavor of the sauce you are about to prepare. This is toooo good to dilute.
Sauté half of the garlic in two tablespoons of olive oil in a large, deep stainless steel skillet that has a fitting lid. Sauté for just a moment or two. The garlic will not be cooked, just warm enough to release flavor into your oil.
Add the sliced mushrooms, tossing well to distribute the oil. Salt lightly. Keep tossing. When the mushrooms begin to release their liquid, remove them to a small bowl.
Add just enough olive oil to cover the bottom of the pan and add remaining garlic. Stir it around to spread the minces evenly in the pan.
Position the salmon filets, skin side up, over the garlic and allow them to cook for 5-10 minutes. This cook time varies a great deal from one cookware to another, one stove to another, one altitude to another. What you want is for the garlic to cook down there without turning dark. Dark garlic is bitter.
Turn your filets with a large spatula. Work carefully so that most of the garlic will stick to your salmon and be staring at you after the turn is complete. Now you have the absorbent side of the fish available for flavoring. The garlic is a good start.
Sprinkle with salt, smear with some good mustard, sprinkle with some dill weed, top with the mushrooms that are sitting in their little bowl waiting for this moment.
Pour about a half cup of dry red wine around the sides of the pan, not on top of the fish because you will wash the flavorings off.
If you like capers, sprinkle on 2-3 tablespoons of drained capers.
Cook for 15-20 minutes. This time can vary greatly. The fish is done if it flakes easily with a fork.
If you want to be festive and calories are not a consideration, add 2 cups of heavy cream about 5 minutes before the fish is done. The cream will get bubbly and thick, forming a delectable sauce.
Serve this salmon with quinoa and a green salad for a wonderful company meal.
This post was shared at Fat Tuesday
Related posts:
You might also enjoy: