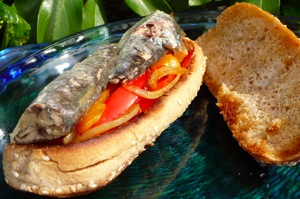 We began pursuing sardine ideas because of the huge amounts of Omega 3 fatty acids found in those little bitty fish. As we enjoy them, we are also appreciating their convenience. In just a few minutes you can have a tasty and satisfying meal. All you need are some key components in the refrigerator or pantry. You probably keep most of them. We try to.
This is an adaptation of your basic Philly. I made this on the road with minimal kitchen access (which is how I justified all of that scrumptious bread). This is a great way to enjoy sardines if you are new to eating them. This sardine Philly is quick to make and sticks to your ribs for hours.
The ingredients listed below make two large sandwiches. If there is no one at home to eat the second sandwich, invite someone. This fare is too good not to have some company.
(Read our sardine profile for in-depth information on this great fish.)
Sardine Philly Sandwich Ingredients
1/2 large red or yellow bell pepper or 1/4 of each
1/2 onion
smidgen of sea salt
1 teaspoon coconut oil
2 six inch multigrain rolls (or go open-faced with hearty slices of bread)
1 small can sardines in oil
2 tablespoons soft butter or extra virgin olive oil
2/3 cup grated mozzarella cheese
Sardine Philly Sandwich Steps
Prepare your rolls by scooping our as much of the interior bread as you can and reserving them as bread crumbs for another cooking campaign. This will create a little boat for holding veggies and sardines and a lid to cap it off.
Place the rolls in a pie plate.
Slice the pepper and onion into long slivers.
Heat a skillet with coconut oil until a splash of water sizzles.
Saute the pepper and onion to the point of doneness you like best. This takes no more than 3 or 4 minutes. Stir often and don't walk out of the kitchen. Sprinkle with a smidgen of salt when the veggies are finished.
While the saute is underway, lightly butter the insides of the rolls, top and bottom. With the butter sides of the rolls facing up, place the pie plate under a hot broiler to toast the bread. This happens in a flash. Remove from broiler.
With the bread still in the pie plate, fill the bread boats with the sauteed onions and pepper. Divide the sardines between the two boats. Carefully pile on the mozzarella cheese.
Remove the roll tops from the pie plate and put the plate back under the hot broiler to melt the cheese. Watch closely. Remove the pie plate from the broiler when the cheese just begins to brown.
Using a spatula, place the sandwich bottoms on serving plates. Put on the lids and press down slightly.
Serve with napkins or be ready to lick your fingers a bit. Depending on how much oil you left on the sardines, this could be drippy. Oh, so worth it!
Related posts:
You might also enjoy: