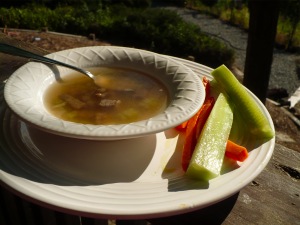 This bison soup recipe is part of a free video course on broth and soup-making we are offering this summer on Facebook. Simply "like" the Facebook page to find the course.
This bison soup is a simple one which relies on the richness of the bison broth to carry the flavor. The bison broth was the first batch of broth we collected from our bison soup bones (which we review here and you can purchase here), using our bison broth approach we outline elsewhere.
Remove the fat from your broth before making your soup. You may want to save the fat to use in other projects.
This recipe is flexible and makes great use of leftovers. We recommend using leftover cooked vegetables and meat in this soup, approximately in the amounts we list below. If you do not have cooked vegetables and meat, use the basic proportions below and saute them on the side or cook them in the broth itself.
Bison Soup Ingredients
1 quart of bison broth
1 onion
2 cloves of garlic
4 stems of celery
2 cups of cooked bison soup meat (or beef)
2 tablespoons white wine
Fresh herbs for garnish such as basil, parsley, or cilantro
Salt and pepper to taste
Bison Soup Steps
If vegetables and meat are not cooked in advance, chop and dice to soup size and saute as you warm your broth. (Our broth and soup class outlines various ways to cook these items as you prepare your soup.)
Strain broth from bones (or recover from your refrigerator), add to a large saucepan, and warm on stove.
When ingredients are cooked and warmed, add vegetables and meat to your warm broth.
Stir to blend.
Taste for salt and pepper. Adjust seasonings.
Ladle the soup into bowls. Garnish with fresh herbs.
Bison Soup Variations
Use beef instead of bison meat.
Pass on the meat and add more vegetables.
Garnish with a sprinkle of freshly-grated Parmesan cheese.
This post is part of Traditional Tuesday and Real Food Wednesday.
Related posts:
You might also enjoy: