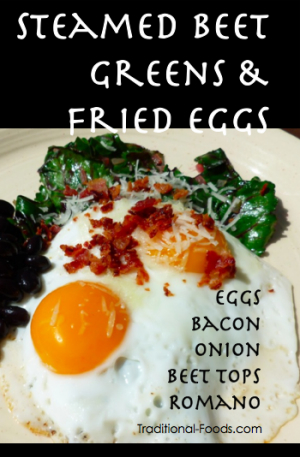 Are you looking for something stunningly beautiful, highly nutritious and totally satisfying for breakfast? While many throw away their beet greens and cook just the roots, you will end up buying extra beets just to have enough greens for this dish. If you have a garden, you may plan a longer row of beets. That is how good this dish is.
If you have the component parts on the counter top, two people in the kitchen could turn this breakfast for six people out in about 12 minutes — less if you don't want your bacon crunchy. Anja, who inspired this recipe, recommends serving it with black beans. We agree! In fact, I cooked black beans the other night just to have leftovers for this breakfast treat.
Ingredients
Good quality bacon: 2 slices per person
Fresh eggs: 2-3 per person
Fresh beet tops: tops from 3 beets per person
Minced onion: 2 tablespoons per person
Grated Romano cheese: 1 tablespoon per person
Steps
Begin warming the black beans.
Fry the bacon.
While the bacon cooks, sort through the beet leaves. Remove any that look bruised or yellowing. Leave the stems attached. Most will cook up tenderly and they add an interesting texture to the dish. Wash the greens thoroughly and allow them to drain until needed. (Read more about cleaning greens.)
When the bacon is done to your liking, lay it on a paper towel to drain.
Pour some of the bacon grease into a second skillet for cooking the eggs.
Drop the minced onion into the bacon skillet. Stay close! The onion will cook in a hurry. Before it gets too brown, drop in the beet greens and toss to coat the greens with bacon fat. Sprinkle on a bit of sea salt and toss again. Turn off the heat and place a lid on the skillet to keep the greens hot while you fry the eggs.
Fry the eggs. Use the freshest eggs you can find. They hold their shape in the frying pan and the yolks are more like to stay intact.
Plate the beet greens, top with an egg or two or three. Sprinkle with Romano cheese and broken bits of bacon. Spoon up a serving of black beans on the side. Have each salt and pepper to their own liking.
Related posts:
You might also enjoy: