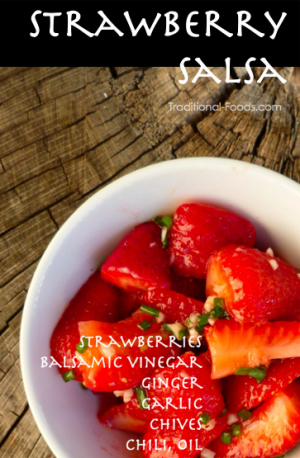 You can hardly find a more delightful way to add fresh fruit or vegetables to your menus than with salsas. If you have not tried a fruit-based salsa before, strawberry salsa may strike you as being off the wall. Actually, it is a lovely mix of flavors. A splash of vinegar on freshly chopped strawberries intensifies the strawberry flavor and, of course, the color is bright and inviting. Cut the berries just enough to recognize the pieces as belonging to a strawberry but small enough to be bite-sized. Do not turn the berries into mush or the charm will be lost.
This salsa makes a fine accompaniment to grilled chicken or for delicately flavored seafood. We served it on a platter beside a white bean and roasted garlic dip with strips of freshly made flat bread. It makes quite a snack tray or a meal on its own.
Another possibility is to serve this salsa as a salad. Simply pile baby greens on salad plates and pile on the salsa. Finish off each salad with a generous dollop of thick Greek yogurt and a sprinkle of toasted pine nuts.
Each time you make this strawberry goodness you will think of new and inventive ways to serve it. You will look for excuses. It's that good.
The ingredients in the following recipe can be cut in half or multiplied many times over. The amounts given below were adequate to serve four people on a relish tray. Although the salsa can be safely refrigerated for a couple of days, the strawberries loose their visual appeal. We all eat with our eyes to some extent so plan to make enough salsa to enjoy on the day it is put together.
Strawberry Salsa Ingredients
2 cups strawberries, cleaned and chopped
2 teaspoons balsamic vinegar, white balsamic if you have it
1 tablespoon freshly grated ginger root
1 finely minced garlic clove
1 tablespoon freshly minced chives
1 teaspoon chili oil or 1 mild chili, seeded and minced
1 tablespoon sunflower oil or mild oil of your choice
Sea salt to taste
When you salt the salsa, keep in mind what you will serve it with. Some dishes are already rather salty and will perform better with an almost salt-free salsa.
Strawberry Salsa Steps
Add all the ingredients to a medium-sized bowl.
Gently but thoroughly mix all the ingredients. Remember that you are working at not crushing the strawberries.
Allow the salsa to sit for 30 minutes for the flavors to blend and deepen. Cover the bowl with a clean tea towel to keep fruit flies out. A number of tiny insects will find this salsa interesting.
Serve the salsa at room temperature for the best flavor.
If you have juices left in the bowl after the salsa is gone, save the juice for making a fruity vinaigrette. This juice is loaded with flavor.
This post was shared at Seasonal Recipe Round Up, Women Living Well, Gluten Free Wednesdays, What's Cooking Wednesday, Healthy 2Day Wednesday, Your Whims Wednesday, Wow Me Wednesday, Works for Me Wednesday, Allergy Free Wednesday, Whole Foods Wednesday, Frugal Days Sustainable Ways, Real Food Wednesday, Penny Pinching Party, Whatever Goes Wednesday, Wildcrafting Wednesday, Whole Foods Wednesday, Homemaking Link Up, Bizzy Bakes, Full Plate Thursday, Pennywise Platter, Creative Juice, Frugal Food Thursday, It's a Keeper Thursday, Show Off Your Stuff, Sweet Treats Thursday, Deligtfully Inspiring Thursday, What I Whipped Up Wednesday,

Related posts:
You might also enjoy: