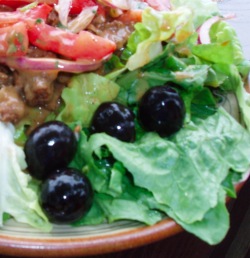 "Taco Meat" is the name we have given this savory ground beef recipe that we use in a variety of ways. Certainly, this meat is great right inside of a taco. However, we also pile it on black beans and then top all with a fresh tomato salsa. One of our favorite uses is what we call "Enchilada Salads," a prized creation of my mother, who tops a bed of greens with enchilada goodness, as you can see in this enchilada salad recipe pictured at right. In any case, it all starts with a good taco meat recipe which you can find here.
Serves: 4
Ingredients: Taco Meat Recipe
2 pounds of ground beef
2 large onions, finely chopped
4 cloves garlic, finely minced
2 bay leaves
4 tablespoons olive oil
3 tablespoons crushed oregano or three branches of fresh oregano
1 tablespoon ground cumin
2 teaspoons ground coriander
Steps: Taco Meat Recipe
Heat a large, heavy skillet and add the olive oil
Fry the garlic and bay leaves for almost one minute and then add the onions. Fry until the onion is limp and just beginning to brown.
Add the ground beef, breaking it up with the spatula and stirring it into the onion mixture. Stir occasionally as it cooks.
When the meat is thoroughly cooked and the liquid from the meat is evaporated, you should see oil in the bottom of the skillet. Add the chili powder and let it sizzle in the oil for a minute.
Add the cumin, coriander, and crushed oregano (unless you are using fresh herbs, in which case, hold off a few more minutes on the oregano). Stir it in well and allow it to simmer for another ten minutes or so.
6. If you are using fresh oregano, at this point turn off the heat. Lay the oregano branches on top of the meat and cover with a good-fitting lid. Allow this to sit and steam for about another ten minutes. The aroma is amazing that comes from this taco meat recipe!
Your meat is now ready to use in a variety of ways. Try doubling or tripling this recipe so you have plenty for later. This taco meat recipe will keep for a week if it is well-refrigerated. This is also an exceptional recipe to freeze in usable quantities for later. We almost always make up this taco meat recipe in bulk and save much of it for later.
Enjoy!
Related posts:
No related posts.