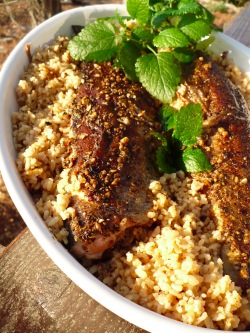 In my on-going quest for food bargains I sometimes find trout at a stunning price. Yesterday was one of those times: $1.47 a pound in a manager's special at Save Mart. I brought home two one-pounders and then wondered what to do with a trout that large. My experience has been with the small trout who lay out four or five in a skillet — trout that are abundant in our rivers here right now. These two large trouts fit nicely in my giant-sized iron skillet as long as their heads were removed.
After washing and patting the trout dry, I put them in a large glass baking dish to marinate for about five hours before frying. The flavors are subtle and combine ingredients we all enjoy. Later I realized that this is similar to the Moroccan-style fish with chermoula, only with much less fire in the marinade. You have to cook to suit your own taste and that of your family.
This variation was well received by all. At dinner Sander remarked that this was something he would expect to find in a high-end restaurant. Frederick countered with the suggestion that I open a restaurant myself. All said, I believe this was a hit. As extra proof of the success of this dish, Frederick finished his meal before anyone else for the first time in recorded history. We will definitely do this trout again.
Trout Recipe Ingredients
2 one-pound trout, washed and patted dry
4 tablespoon extra virgin olive oil
Juice of one large lime or two small limes
2 teaspoon sea salt
1 teaspoon black pepper
1/2 teaspoon cayenne pepper
2 teaspoons cumin powder
2 tablespoons minced lemon balm or mint
1 tablespoon minced fresh lemon thyme
4 large cloves garlic, finely minced
3 tablespoons sunflower seed oil or peanut oil and extra salt and pepper for frying
5 cups prepared brown rice pilaf (optional) for serving.
Trout Recipe Steps
With the trout set aside, mix all the ingredients in a glass baking dish that can accommodate the length of the trout. Mix thoroughly.
Place the trout on top of the marinade. Using your hands, rub marinade on the outsides and insides of the fish. Be sure to get some of the wonderful garlic on the inside.
Cover the baking dish with plastic wrap and pop it into the refrigerator for at least four hours or up to 24 hours.
Heat the sunflower seed oil in a large heavy skillet until the oil is shimmering.
Remove the trout from the marinade and carefully lower it into the hot skillet. Be careful — there may be some popping and crackling of oil.
Sprinkle with more salt and pepper.
Fry the trout over a medium flame for about 6 minutes and then turn the trout over. Use two spatulas for this: one for lifting the trout and the other on top for guiding the trout. If the trout skin is disturbed in the turning process, do what you can to put it back in place. The skin helps keep the fish from drying out as it cooks. Sprinkle this side with a bit of salt and pepper and cook for about another 6 minutes.
The trout is done when the flesh flakes easily with a fork.
When done, lift the trout from the skillet and place on a bed of hot brown rice pilaf.
Quickly pour the fish marinade into the hot skillet. This will help to lift flavorful bits from the bottom of the pan and will cook the garlic in the marinade. Cook for about two minutes, stirring with a wooden spoon or small spatula.
Pour the hot marinade over the fish and pilaf. Garnish with fresh mint or parsley and serve with pride.
Related posts:
You might also enjoy: