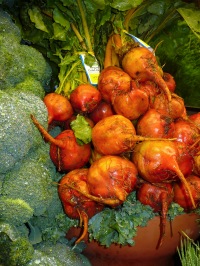 What makes use of left over vegetables and vegetables scraps, leftover bones, and is wrapped up together in a tasty package of health-supporting goodness? This vegetable juice adaptation that combines fresh vegetable juice with hearty bone broth (you could substitute vegetable broth as well).
As described in the video below, use vegetables you have on hand to make your vegetable juice. You will need a juice extractor that actually extracts the juice out of vegetables. In the video we are using this juicer which we have had great success with over the years.
If you have produce that you know you will not end up using otherwise, juicing it is an exceptional way to enjoy its benefits and keep it from being wasted. If you are buying vegetables specifically for juicing, our favorite combination is one beet, five large carrots, and two celery stalks. The juice itself is quite sweet and dense, but combined with broth, it becomes a heartier beverage that will not knock you over with the sweet punch of juice.
To make bone broth, we follow our bone broth process. We use a warm broth to create a warm juice drink.
We use about one-third vegetable juice to two-thirds broth, but this concoction is definitely worthy of tweaking to suit your own tastes.
Drink a cup of this combination and feel the nourishment as it hits your stomach. There are few things quite as satisfying as one of these drinks.
Check out this vegetable juice recipe by Mom on YouTube or watch below.
This post has been shared at Flu-Fighting Foods, Simple Lives Thursday, Fresh Bites Friday, Freaky Friday, Fight Back Friday, Friday Food, Foodie Friday, Living Well Blog Hop, Sunday School

Enjoy your vegetable juice!
Related posts:
You might also enjoy: